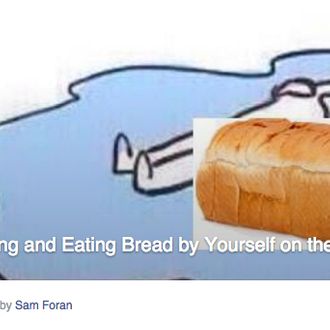 An Ontario college student who just wanted to spend his New Year's Eve alone, eating bread and crying, inadvertently inspired tens of thousands of people to say they're doing the same.
Sam Foran's Facebook event, "Crying and Eating Bread by Yourself on the Floor," started as a joke, he told the Daily Beast. His roommate had introduced him to the weird Facebook subculture of "random" pages and events, e.g. "Dropping Out of School to Become a Potato"—and he wanted to try making his own. So, one sleepless night, he did.
"Crying and Eating Bread by Yourself on the Floor" is still a joke, but now it's a joke with around 35,000 people RSVPing yes and another 40,000 or so "interested."  
It's not clear how so many people discovered the event, because Foran says he didn't invite anyone — that was part of the joke.
"I like crying. I like eating bread. I like being by myself. I like lying on the floor. I thought I would combine all four into one epic night of self pity and regret. Tissues and light refreshments will be provided," Foran wrote in the event description.
But the Daily Beast speculates that Foran's event was the lucky beneficiary of a Facebook algorithm, and now he's not alone at all.
At least in spirit. Foran said he'd talked with his roommate about turning the event into an actual party, but right now he's still planning on a solo evening of tears and baked goods on the floor, because it would be funny.
He's also talked to sponsors in an attempt to turn the sudden popularity of bread and crying into something useful, perhaps for charity, but has so far come up empty-handed (call him, Kleenex and Wonder Bread!).
"For a minute, I thought of deleting the page," Foran told the Beast. "Now I think I can't do that."
Since then, he's embraced the party and given up on loneliness.
"Its been one week since I posted this event and the response I've gotten is incredible," he wrote on Facebook, "… I know I've said many times that this is a solo event, but I truly look forward to meet you all on new year's eve."
Nothing brings people together like crying alone. And bread.