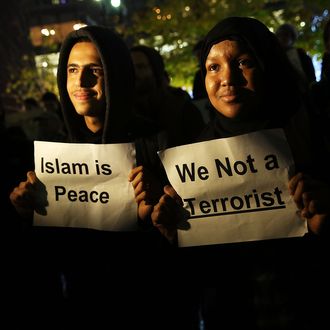 Photo: Spencer Platt/2015 Getty Images
A belligerent customer assaulted a worker and damaged property at a restaurant near Herald Square earlier this week in what the Daily News calls an "anti-Muslim tirade" — one of several recent incidents in the city apparently motivated by hatred of Muslims.
Monday evening, 26-year-old Robert Murino of Brooklyn walked into Salt & Pepper on West 33rd St., ordered a slice of pizza, and promptly began demanding that the eatery's workers, all of whom are South Asian in origin, tell him whether they were Muslims and how they felt about ISIS.
Salt & Pepper employee Tahir Mahood, 34, tried to calm him down only for Murino to call him a "Muslim mother f—er and hit him in the face. Murino was escorted out but soon returned to the establishment, where he smashed two glass partitions at the food counter with a chair. He had left the scene before police arrived but another employee, Lina Parvin, helped them track him to a nearby pizzeria where he was arrested.
Murino, who has a prior sealed arrest from 2008 for disorderly conduct and resisting arrest, now faces charges of criminal mischief as a hate crime and attempted assault as a hate crime.
In its report, the Daily News also points to two other troubling incidents that took place on Wednesday. In one, a woman waiting for a bus in Bay Ridge was approached by a man who told her, "I can't wait for the U.S. to get rid of you trash," then kicked her in the thigh and fled the scene.
Also on Wednesday, subway workers in the Coney Island trainyard found "Burn the Muslims, Heil Hitler!" scrawled in black marker on a train seat.
These incidents come on the heels of the vicious assault of Astoria shop owner Sarker Haque, whose attacker, 55-year-old Piro Kolvani of Florida, reportedly said 'I kill Muslims' while beating him for several minutes until a regular customer of Haque's intervened and called the police. The NYPD is investigating Haque's ordeal as a possible hate crime.
In a statement emailed to New York Magazine, a group of Queens officials condemned the attack on Haque and the anti-Muslim rhetoric that inspires such acts of violence.
"The assault against Sarker Haque was an assault against all Americans who want to live in a society where diversity is respected and religious and ethnic hatred are things of the past," the statement quoted Queens borough president Melinda Katz as saying. "It is therefore critically important to all of us that the perpetrator is held accountable for this violent crime."
Violent attacks against Muslims have been reported throughout the country in the wake of the recent attacks in Paris and San Bernardino. On Thursday, police evacuated the office of the Council on American-Islamic Relations (CAIR) in Washington after it received a piece of mail containing death threats and a suspicious white powder, later found to be harmless.
CAIR's office in Santa Clara, California, received a similar letter on Thursday, signed "Infidel," and was also evacuated. It is not yet known whether the substance contained in that envelope was actually dangerous.