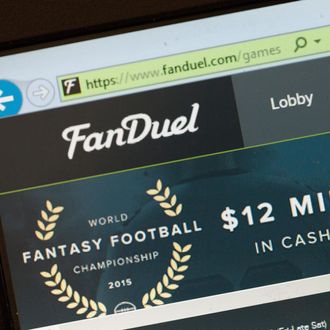 Photo: Scott Olson/Getty Images
Only hours after a State Supreme Court justice told DraftKings and FanDuel that they couldn't operate in New York while a case regarding their legality was pending, a state appeals judge said that the two fantasy-sports giants could stay in business — at least for now. Appellate judge Paul Feinman granted an emergency temporary stay to the two companies, which were somewhat terrified of what would happen to business if they lost New York, even temporarily.
According to ESPN, more than half a million people play daily fantasy sports in New York — 13 percent of the nation's fantasy players. This year, those who played paid more than $200 million in entrance fees. 
FanDuel, which is based in New York, and DraftKings, based in Boston, argue that daily fantasy sports is a game of skill, and protested fiercely when Schneiderman hit them with a preliminary injunction to keep them from doing business in the state last month. The two sites then sued the attorney general, calling the move to kick them out of the state a "shocking overreach" that was "unwarranted by the facts and unbecoming of a public official." The lawsuit was "necessary to bar the Attorney General from continuing to abuse his power and to prevent the irreparable harm that will result from it."
Both sites argue that the fact that only a few players win most of the money is a feature, not a bug, and it's one that proves that daily fantasy sports is a game of skill. 
According to the Albany Times Union, if you tried to visit the FanDuel site in New York on Friday morning, you were greeted with a message that reads, "We're sorry, but your location prohibits you from making deposits or playing on FanDuel. Customers from the following states are currently ineligible to participate on FanDuel: Arizona, Iowa, Louisiana, Montana, Nevada, New York or Washington." In October, Nevada kicked DraftKings and FanDuel out of the state for breaking state gambling laws. The FBI and Justice Department are also investigating the daily fantasy sites to see if they are breaking any laws. 
As ESPN notes, "Friday's ruling does not negate the interpretation made by [the state Supreme Court judge] that DraftKings and FanDuel were illegally operating within the state."
On Tuesday, DraftKings and FanDuel visited the state capitol to make their case to the Assembly Committee on Racing and Wagering. Former New York City deputy mayor Randy Mastro, who is also representing DraftKings, told the committee, according to WGRZ, "Daily fantasy sports games have been played openly, permissibly, honestly in New York by hundreds of thousands of fans — including some members of the Assembly."