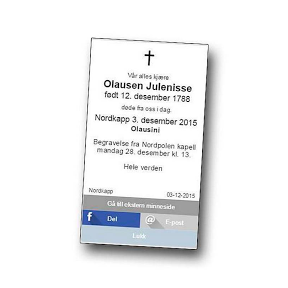 A Norwegian newspaper apologized to readers after mistakenly running an obituary announcing the death of globally beloved humanitarian Santa Claus at age 227. According to Aftenposten, the country's second-largest paper, Dear Father Christmas died December 3 at Nordkapp, Norway's northernmost point — some 1,300 miles from his home at the North Pole. Tragic news if true.
But Aftenposten quickly assured distraught readers that it was not true, and that the death announcement had been posted in error.
"A mistake in Aftenposten internal procedures led to a fictional obituary of Santa Claus being published in our digital systems," the paper stated, saying the classified ad violated its guidelines for obituary content.
With a major Norwegian newspaper formally confirming Santa Claus's death was a hoax, there's only one logical conclusion to draw here: Santa Claus is alive and well. If the news implied it, it must be real.
And thank goodness for that, because no one wanted to read the inevitable hot takes on how Santa was an overrated fake altruist whose legacy will be tainted by commercialism and labor violations.