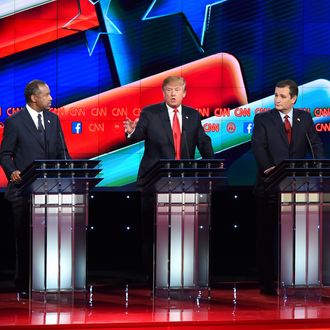 We're finally winnowing the field from way too many candidates to too many candidates.
Photo: ROBYN BECK
Hopefully you enjoyed the days when you could picture the GOP debaters forming the world's saddest NFL offense, because that practice will not carry into the New Year. Fox Business Network announced on Tuesday that to qualify for its prime-time debate on January 14, candidates must place in the top six in an average of the five most recent national polls, or in the top five in an average of the five most recent polls from Iowa or New Hampshire. According to Politico, if the debate were held today, it would feature Donald Trump, Ted Cruz, Marco Rubio, Ben Carson, Jeb Bush, and Chris Christie.
With Lindsey Graham's recent exit from the race, the undercard debate was set to be an even more boring affair, but conveniently, the format change solves that problem. To be invited to the "kiddie table" debate, candidates only need one percent support in at least one of the five most recent national polls. That means the earlier debate is likely to include John Kasich, Carly Fiorina, and Rand Paul, as well as undercard veterans Mike Huckabee, Rick Santorum, and George Pataki.
Of course, there will probably be some surprises in the final lineup, especially since the networks have been willing to bend the rules for borderline candidates. Christie, Kasich, Fiorina, and Paul should probably start complaining about Fox Business Network's unfair debate criteria (or trying to boost their poll numbers) ASAP.