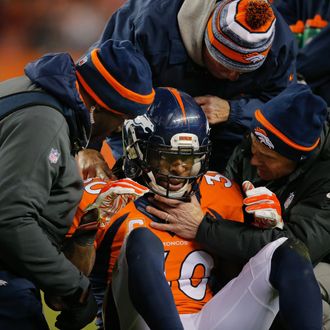 Denver's David Bruton is attended to by trainers after a play last year that would force him out of a game with a reported concussion.
Photo: Doug Pensinger/Getty Images
The NFL has balked at funding a seven-year, $16 million study that will look at the relationship between football and brain disease, according to an ESPN report. The study was to be funded out of a grant the NFL gave to the National Institutes of Health in 2012, but sources tell the network's Outside the Lines that the league backed out because the project will be overseen by a Boston University researcher who has been critical of the league. The study will still take place, but it'll now be paid for by the NIH.
In 2012, the NFL gave a $30 million research grant to the NIH, and the league has said it has no control over how that money is used. But in 2014, an NIH official told Outside the Lines that the league retained veto power over which projects it funds. The study in question here seeks to diagnose CTE, the brain disease linked with repetitive brain trauma, in living patients. (Currently, it can only be seen in an autopsy.) But according to today's ESPN report, the NFL exercised that veto power upon learning that the project would be led by Robert Stern, a professor of neurology and neurosurgery at Boston University.
Stern, who is also the director of clinical research for Boston University's CTE Center, is a prominent figure in the study of the disease, and he's been critical of the NFL in the past. Via ESPN, he once said that current commissioner Roger Goodell inherited a "cover up" from his predecessor, Paul Tagliabue, and in 2014, he opposed the settlement of a lawsuit in which 18,000 former players sued the league over concussion-related brain injuries.
Regarding the league's apparent concerns over his objectivity, Stern told ESPN, "I am a scientist, first and foremost. And as a scientist I have always and will always conduct research with complete impartiality. If I say things about the NFL or others that may sound negative, that has nothing to do with the impartiality of my science."
In response to an ESPN email asking why the league did not fund the study, NFL spokesperson Brian McCarthy referred questions to the NIH. In a tweet early this morning, McCarthy said that ESPN's story was not accurate, and that the league did not pull funding. He added that the NIH makes its own decisions.