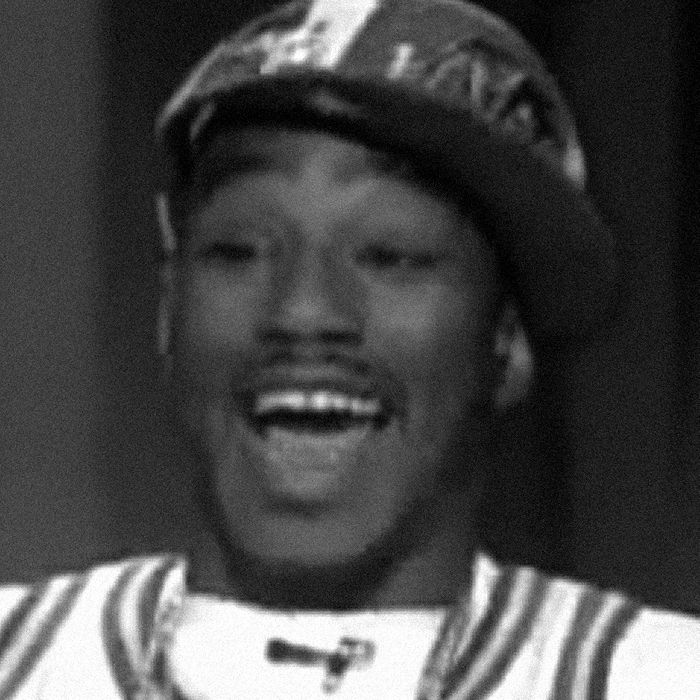 In November 2003, Fox News host Bill O'Reilly invited the rapper Cam'ron to The O'Reilly Factor. As Cam'ron and his manager Dame Dash defended their music to O'Reilly, the segment grew somewhat heated. Cam'ron, laughing, pointed his finger at O'Reilly, and, in a singsong voice, unleashed a grievous insult: "You mad."
Cam'ron's immortal words have since been adopted by the internet at large as the cool, detached comeback to anyone who lets it be known that someone online has gotten to them. For many (normal) people, being mad is a natural consequence of impassioned debate. Why argue for hours if you're not going to be emotionally invested in something? But for a certain species of internet user, the question is reversed: Why be emotionally invested in anything you might argue about?
Online, it's acceptable to argue for eight hours straight about circumcision or video-game breast sizes, resolutely backing yourself into insane rhetorical and logical corners. But you can only truly lose the argument by being "mad" — in other words, by admitting that some other blank-faced loudmouth has taken up enough space in your head to command anything but mirth or indifference. Displaying real emotion on the web is verboten — it shows that an anonymous troll has gotten under your skin, that a handful of words adjacent to a silhouette of an egg have ruined your day. Even as the skin on your neck grows red and primal rage overcomes your sense of control, you can never admit defeat.
As such, people who get mad online employ a set of surprisingly universal responses to show how totally unaffected they are. These are the flimsy suits of armor donned by narcissists with big egos and little tolerance for criticism or self-awareness: In other words, assholes who have been owned online.
As internet jerks who are no stranger to trolling, we have compiled the following taxonomy of responses to being mad.
"I Actually Find This Funny"
Saying you're so aloof you find everything ludicrous is the platonic symptom of being mad. It's a natural response to getting owned. In fact, it has a classical precedent, in 2 Samuel 6.
After Saul dies, King David ascends the throne and wins a major battle. He celebrates by getting naked and giving everyone in Israel raisins (the past really sucked). Saul's daughter Michal is unhappy: "How the king of Israel has distinguished himself today, going around half-naked in full view of the slave girls of his servants as any vulgar fellow would!" she says. In other words: "Actually, I find this funny." Seeing through her, David reminds her that God chose him, not her loser dad. Then Michal dies without children.
What it means: I'm not mad at all … nope, not one bit. That crushing feeling inside when I contemplate the thousands of strangers telling me I'm an awful person … that's actually funny to me.
Modern precedents: In modern times there are innumerable examples of this phony rolling-with-the-punches, from pharmaceutical price-gouger Martin Shkreli to, uh, ISIS, who called Anonymous "idiots" and nerds in response to the latter declaring cyberwar on the terrorist organization:
"The Anonymous hackers threatened in new video release that they will carry out a major hack operation on the Islamic State (idiots). What they gonna hack … all they can do is hacking twitter accounts, emails etc…"
The rest of that missive included basic advice on password security, indicating that ISIS wasn't threatened or mad at all by these digital vigilantes. Anonymous, meanwhile, claims they've dismantled 149 ISIS websites and flagged 100,000 ISIS twitter accounts.
"Actually, You're the One Who's Mad"
"Actually, you're mad" is a version of the classic, rhetorically sophisticated comeback "I'm rubber, you're glue." This one is the white-belt level of "who's mad?" martial arts — a simple reversal that will confuse only the most mad. 
What it means: Not everyone is on the internet 24/7 like you pathetic nerds. Some people go to the gym, or have sex with our hot wives, or just go outside and enjoy the beautiful day free of trolls. If anything, the real losers are the ones who are criticizing me.
Precedents: @WillMcAvoyACN, an account dedicated to role-playing as a character from the canceled show The Newsroom, absolutely isn't mad when someone tells him he sucks — if anything, his several tweets written with the breathless gravitas of an Aaron Sorkin screenplay indicate that actually it's his haters who are wrong.
"My Hot Wife Thinks This Is Funny"
Sometimes you don't need to tell people explicitly that you're not mad. Sometimes you just need to let them know how freakin' great your life is and they'll understand. How can a guy with a wife this hot, a watch this expensive, a car this clearly a compensation mechanism be mad?
What it means: While you trolls living in your mom's basement have been obsessing over me, I've been out riding my Maserati with my hot *Asian* wife, who agrees with me that you guys are a bunch of losers that I don't even have time to care about since I'm so busy pumping iron at the gym at my *Fortune 500* company office.
Precedents: The exemplar of this genre is conservative pundit Kurt Schlichter. Just search "from:@KurtSchlichter model wife" or "from:@KurtSchlichter model wife" on Twitter and you'll be treated to some gems: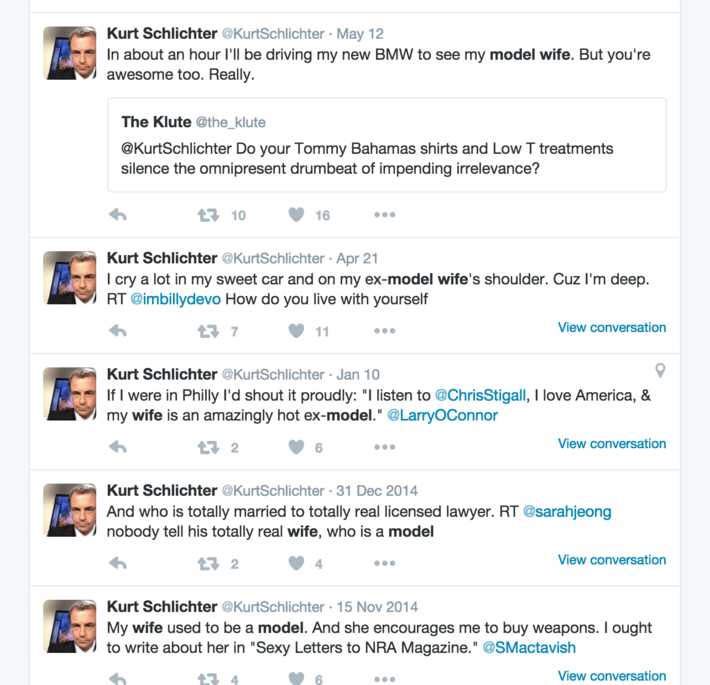 "Clearly, You Suffer From Clinical Wrongness"
Because of hourlong criminal dramas, the dumbest people alive think that they're psychological profilers. It's a fun illusion of authority of knowledge for some to repeat probably incorrect psychological causations they heard an actor say, but online, it's a last resort.
If you can't find anything in a person's argument, or make fun of their picture, or find a really sad post they made previously about their loved one leaving them, all you can do is offer useless diagnoses of their various brain disorders. This technique is widely used by minor notable people, who are extremely close to telling their trolls "it seems you have a case of psychology, buddy." "This is classic projection" is a telltale sign someone is very angry.
What it means: What, were you not hugged enough in the womb? I'm not here to give you free psychiatric care. Not that I couldn't afford it.
Precedents:
"Dance, Puppets, Dance"

One way to assert authority when you're mad is to say this entire time you've merely been pretending to be terrible, perhaps as a social experiment or for your own amusement.
What it means: Oh, you thought I was actually an unforgivably vile human being? Well, idiot, in fact I was performing a social experiment which exposed you as the bad person. Clearly you're too much of an ignoramus to understand the scientific value of screaming the N-word in a debate about video games.
Precedents: According to secondary sources, this one may also have Biblical roots, this time in Exodus. Totally not mad from the death of his son and destruction of his crops, Pharaoh likely told Moses that he would let the Israelites go. However, when he caught up to them at the Red Sea, it is extremely likely that he claimed this was all part of his plan. Of course, he got destroyed by YHWH immediately after, which shows a guy who admits he's mad will always beat a mad guy who tries to hide it.
In the modern context, this is a classic form of ass-covering after ill-conceived marketing campaigns go awry.
In 2012, the National Republican Congressional Committee set up a live-stream of a printer making copies of a petition to repeal Obamacare, which supporters could sign online. Of course, people found it and signed it with names like "Piss Children," "Boner Junkmonkey," and "Joseph Goebbels." For an hour, viewers watched as "Weedlord Bonerhitler" and "HelpI'mStuckInthisPrinter" declared their desire to roll back the Affordable Care Act; at some point, a disembodied hand started reaching into the feed to rip out offensive entries before the feed was cut off. Was the NRCC mad? "We were all sitting around watching it, laughing hysterically," claimed their digital director. Indeed, it was their plan all along to have their serious petitions signed by the likes of "Detective Rex Hardbody" and "Pointless Empty Gesture."
"Thanks for the Traffic / You Must Really Love Me!"
Suppose you eke out a living writing noxiously stupid yet sincere blog posts with titles like "Trigger Warnings Caused ISIS" or "Miracle Urine Supplements Raised My T-Levels," and suppose you wake up to find your articles have been passed around by online jokesters and now thousands of strangers are commenting on how you have the physique of a drinking-bird desk toy. If you had self-esteem you'd probably be upset, but instead you're elated because your blog is getting thousands of clicks, and your Twitter mentions are full, and your thoughts are being shared far and wide (albeit by people who just want to make fun of you). All publicity is good publicity, right?
This tactic is notoriously abused by weirdo men's-rights activists and right-wing clickbait writers who revel in the success of their intricate plot to become social media's bête noire by calling Lena Dunham fat.
What it means: Wow, blowing up my mentions like all my other fans. Guess you must have really loved this one, huh? My wife thanks you for the traffic, she's been really wanting that new couch. Anyway, I gotta go to the gym, but please try to contain your love for me.
Precedents: None — we don't want to give them any traffic.
"Put Your Location On / Say It to My Face"
The internet works great because you can say whatever nasty thing you want without someone beating the shit out of you. But if you make the wrong keyboard commando upset you might be invited to duke it out mano a mano.
What it means: Well, you know where I am. I'd love to see you back everything up in person, which I know you won't.
Precedents: There's Jose Canseco, whose brain has presumably been destroyed from years of steroid abuse, demanding to fight a seven-foot-one Shaq. There's this guy who drove a half hour to Temecula, California, to fight a total stranger on Christmas Day because they were arguing about Kobe Bryant on Twitter.
Then there's former Business Insider CTO Pax Dickinson, whose first response after being outed as a raging bigot was to demand tech writer and critic Anil Dash tell him he's an asshole to his face. Dickinson was fired a day after that, but apparently they indeed met for chocolates.
"Cease and Desist This Libel, Slander, and Defamation Per Se"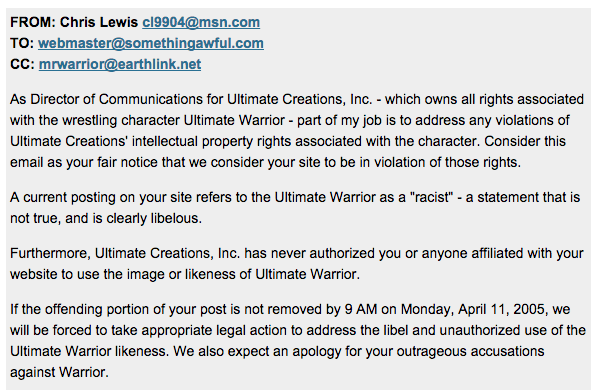 Baseless legal threats — or lolsuits — are a classic response to being insulted online. To a certain kind of bully, particularly one with no background in law, the legal system is either a blunt weapon to be wielded against trolls or a casino with easy payouts against anyone who calls you an asshole. Sometimes they make good on their threats, as actor James Woods famously did this year, suing an anonymous Twitter user for $10 million in a probably doomed case.
What it means: My lawyer will be happy to see this. Yeah, keep talking. You'll see how "worth it" this all was in court. I wonder how funny it will all be then. Pretty funny, but for me, actually.
Precedents: Humor website Something Awful has a section devoted to specious legal threats from people they've rankled over the years. In one exchange, someone representing retired WWF star the Ultimate Warrior threatens to sue over a post calling the wrestler a racist. When the site's owner, Rich "Lowtax" Kyanka, responds dismissively, the representative tracks down Lowtax's address, calls his father (?!), and writes:
Speaking of little man, I've also managed to track down a couple of pictures of you, which I've attached to this email. You should really spend less time typing away at your computer and a little more time in the gym. Those arms of yours look like spaghetti. And those rosy-red cheeks of yours are quite manly, as well.
Some accounts go one step further and draft their own laws. When the Steak-umm brand of questionable meat product blocked Twitter user Weedlord Bonerhitler in 2014, their 700-follower account was deluged with invective from angry internet jerks demanding justice. In response Steak-umm blocked hundreds of critics then promulgated a 1,300-word manifesto of rules for interacting with them on social media, featuring such injunctions as "don't be a fake" and "don't spread lies and rumors about Steak-umm or our competitors." Fair warning: When you log on, you're all under Steak-umm's jurisdiction.
"Everybody, Look at How Not Mad I Am!"
If a tree isn't mad in a forest and no one is around to witness it — does it make a sound? It's one thing to let an antagonist know that you're totally not mad, but sometimes you need to let everyone else know, too. Hence the practice of retweeting insults, or including a period before the handle of the person you're arguing with (or putting the handle at the end of the tweet): Why shouldn't all of your followers be aware of how totally not mad you are?
From Robert Evans writing a memoir about how he's not mad at Francis Ford Coppola to cub reporter Milo Yiannopoulos threatening to dox something called the "Shit Account tournament," those with megaphones will use them to show they're so far above it all that they'll let their audience laugh along with them!
What it means: Seriously, fans, check this one out — it actually made me laugh. +1 to you, anonymous virgin troll.
Precedents: A habitual practitioner of this is noted hack @TheTweetOfGod, who periodically sifts through his Twitter mentions to find haters to retweet to his audience of 2 million neurosurgeons and astrophysicists: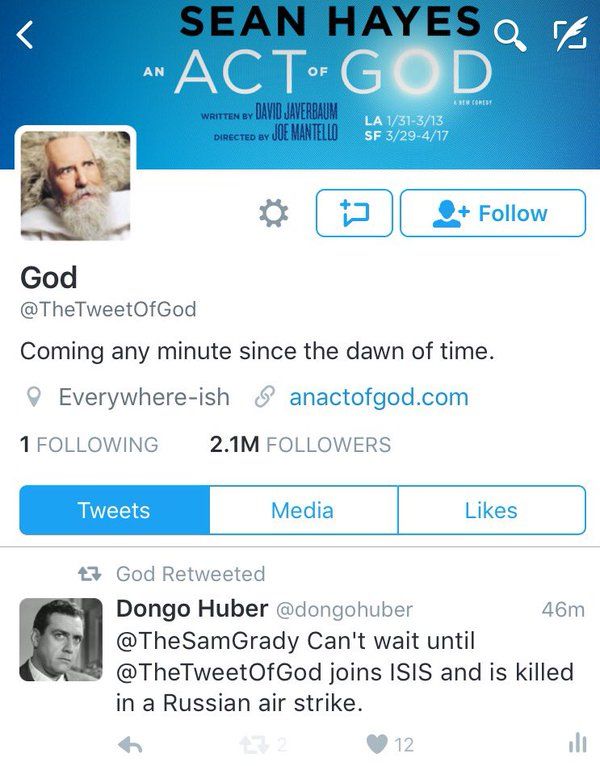 After a few minutes, God in His infinite wisdom will delete the retweet to keep His timeline focused on such gems as "Donald Trump would tell Barabbas 'You're fired!'" Despite doing this constantly, David Javerbaum, the voice of God, definitely isn't mad, as evinced by this totally normal direct message he sent someone:
"I Am Not Mad and Nude"
This is a landmark innovation in being mad. On the 26th of December, 2014, a man named @ScottyBurberry got so enraged during an argument about the merits of beer versus vodka he responded in this way: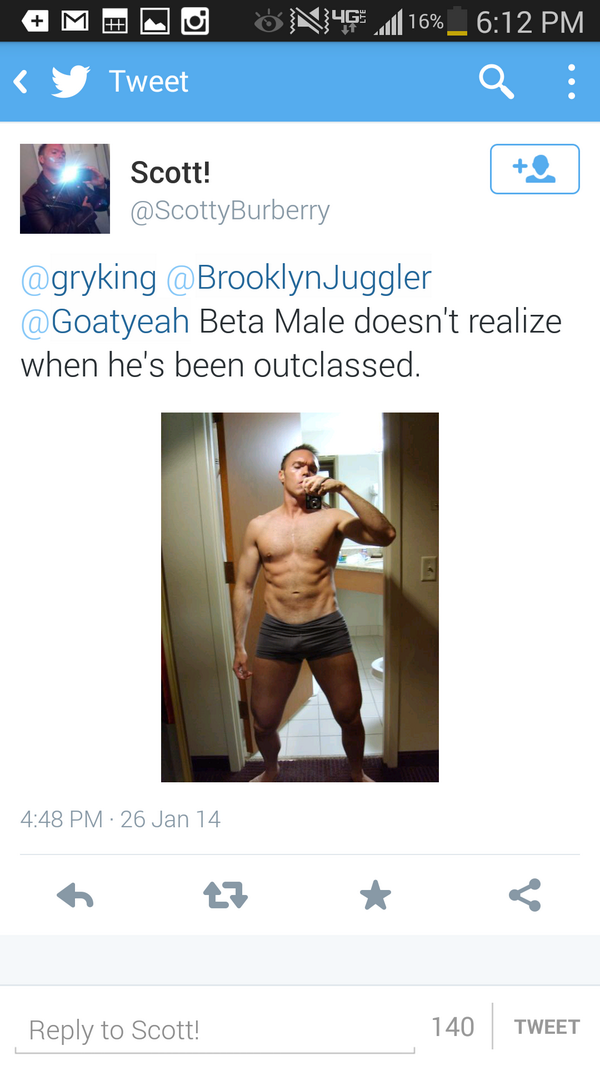 To date, there has been no one else who has done this in earnest online. The totally unique and evocative experience of ripping your clothes off because you're so furious at the trolls has caught fire, however. Almost two years on, people are still enamored by the concept. It's also subject to an unforgettable tribute from Twitter user @_Snackman: