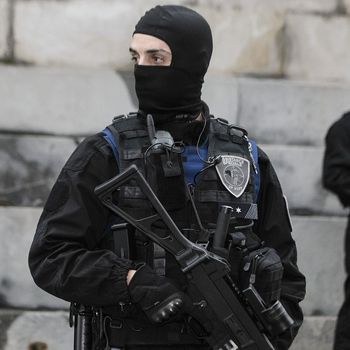 Belgian police officers and soldiers stand guard outside the Brussels Palace of Justice.
Photo: NICOLAS LAMBERT/AFP/Getty Images
Authorities in Belgium have arrested a ninth suspected co-conspirator in last month's Paris attacks. The nation's federal prosecutor identified the man only as Abdoullah C., a Belgian national born in 1985. The suspect's detention began on Tuesday, after an investigative judge issued a warrant against him "for terrorist murders and participation in the activities of a terrorist organization," the New York Times reports.
Prosecutors say Abdoullah C. exchanged several phone calls with the cousin of the man believed to be the attacks' chief planner, Abdelhamid Abaaoud, in the days immediately following the murder of 130 people in downtown Paris on November 13.
Few other details about Abdoullah C.'s role in the attacks have been released, according to the BBC. Both Abaaoud and his cousin Hasna Aitboulahcen were killed five days after the mass murder, when police raided their barricaded flat just outside Paris.
Prosecutors chose not to announce Abdullah C.'s arrest earlier in the week to avoid alerting potential accomplices, a spokesman told Reuters. On Thursday, Abdoullah C. will appear in court, where a judge will decide if his detention should be extended. Alongside him will be another suspect, Abraimi Lazez, sources told the BBC. Lazez, a 39-year-old Belgian of Moroccan descent, was arrested in November on charges that he helped key suspect Salah Abdeslam flee France.
Abdeslam is believed to be the only direct participant in the atrocities of November 13 who remains alive. The 26-year-old was stopped and questioned by police near the France-Belgium border on the morning after the attacks. But an alert had yet to be put out on his name and he was quickly released. Abdeslam is still at large.