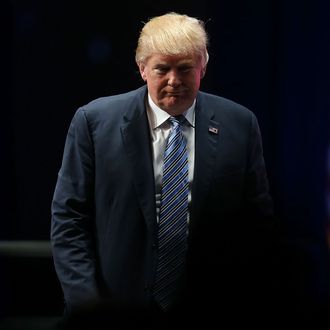 Photo: Joe Raedle/Getty Images
For Establishment Republicans and mainstream media folk who have been waiting with bated breath for Donald Trump's inevitable decline and fall in public opinion to occur before actual voters vote, today's release from Monmouth University showing Ted Cruz ahead of Trump in Iowa was exciting news. Politico's headline was: "Poll: Cruz surges to first in Iowa." And indeed, the survey shows Cruz at 24 percent, Trump at 19 percent, Rubio at 17 percent, and Carson at 13 percent. Has the mighty fallen?  
Maybe, but it's worth noting that the last Monmouth poll of Iowa in October showed Trump trailing Ben Carson by 14 points. In August, Montmouth had Trump and Carson tied at 23 percent. And in the preceding survey in July, Monmouth still had Scott Walker — remember him? — leading in Iowa, nine points up on Trump. 
Is there a reason this particular polling outfit seems to have a relatively low estimate of Trump's appeal in Iowa? Yes, there is: Up until its latest poll, Monmouth has used prior Iowa Republican primary participation as a screen in determining likely Caucusgoers. In the very latest (see the methodological note at the end) they've included some non-primary voters who say they plan to Caucus with Republicans on February 1, but not a whole lot of them. This could matter because the whole Trump strategy is to attract low-propensity voters and independents to the Caucuses. Before you scoff too much at that, recall that expanding the universe of Caucusgoers was precisely how Barack Obama won Iowa in 2008. 
I'd wait for another poll or two from Iowa before concluding the Donald has faded, or that anyone in particular has supplanted him as the front-runner.