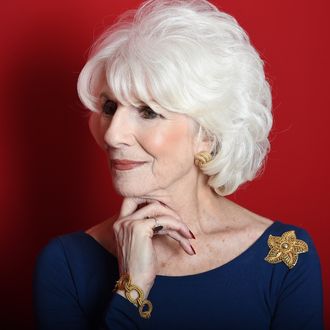 Rehm in February 2015.
Photo: Matt McClain/2015 The Washington Post
After nearly four decades on air, beloved NPR host Diane Rehm is retiring. WAMU, which produces The Diane Rehm Show, said the 79-year-old host will step down some time after the 2016 election. WAMU general manager J.J. Yore said the station is working with Rehm and NPR to find a successor. "We are excited about the ideas we are developing and the talent we are considering," he said. "We are committed to finding a successor who will honor Diane's legacy and the qualities listeners treasure about her show — civil discourse and deep conversations about the issues of the day with listeners as part of the conversation — while also reflecting changing audience needs and habits."
Rehm suffers from spasmodic dysphonia, a neurological disorder that strains her voice, and she's been forced to take periodic leaves of absence to receive treatment. The Washington Post reports guest hosts Melissa Block, Indira Lakshmanan, and Melissa Ross are being considered to replace her.
Rehm began working at the station as a volunteer in 1973, and took over the talk show Kaleidoscope six years later. It was renamed for her in 1984. The two-hour program is syndicated to nearly 200 public-radio stations across the country and has more than 2.4 million on-air listeners per week, according to NPR.
Yore said Rehm is considering her next move, which may include "a speaker series, a new show or podcast, and other ways of connecting with her most loyal listeners." She'll soon embark on a book tour to promote her new memoir On My Own.
"My thinking is that I'll stay on the air until the election because I really want to see how this will go," Rehm told the Post. "My feeling is, I have a number of ideas and I'm perfectly happy doing something different … where I'm not forced to get up at 5 a.m. every morning to prepare for a show. I've been doing that for 37 years. Maybe I'll get to sleep until 7 or 7:30 a.m., like other people do."