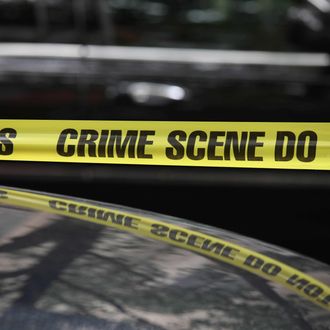 Photo: Rob Kim/Getty Images
While many New Yorkers believe that the city is becoming more dangerous, statistics released this weekend once again show that the crime rate is actually down. According to the NYPD, 2015 saw an overall 2 percent decrease in murder, rape, robbery, serious assault, burglary, grand larceny, and car theft compared to 2014, which itself was a record-low year for violent crime. "As we end this year, the City of New York will record the safest year in its history, its modern history, as it relates to crime," said police chief Bill Bratton earlier this month.
From the New York Times:
At the same time, arrests recorded by officers fell steeply, to 333,115 through Dec. 20, down 13 percent from 384,770 over the same period the year before. The number of criminal summonses dropped to 292,372 from 358,948.

There was a small rise in murders, to 339 as of Dec. 25, already more than last year's historic low of 333. Still, the number is well below the 536 murders recorded five years ago.

And despite an early increase in gun violence, the final tally of shootings for the year is set to come in slightly lower than last year's figure.
Also of note: Arrests for pot possession declined for the third year in a row, from 27,476 in 2014 to 17,362 in 2015. That's a far cry from 2011, when 50,700 people were arrested for having small amounts of weed, but it still sounds like a lot, given New York's now not-so-new marijuana policy.