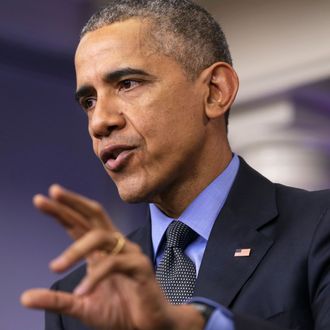 Photo: Alex Wong/Getty Images
Ninety-five federal inmates will leave prison by early next year after President Obama commuted their sentences Friday. All were convicted of nonviolent drug offenses. These prisoners will move to lower-security facilities and then halfway houses as they transition to freedom. Many should be released in April, reports the Times. 
This is the third time this year Obama has commuted sentences, but it's by far the largest number he's ever granted freedom at one time. In total, Obama has commuted 184 sentences during his tenure — more than all of the last five presidents combined.
Obama signed a letter to each of the offenders to let them know he was granting their commutation request — probably the best possible Christmas present. He cautioned that the prisoners would face challenges, but signed off on a positive note: "I believe in your ability to prove the doubters wrong, and to change your life for the better."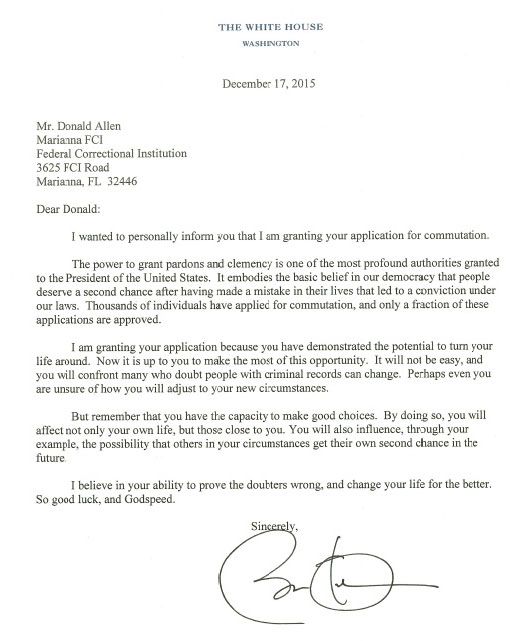 About 40 of the prisoners who had their sentences cut short had been serving life in prison. Obama, however, only awarded clemency to a very small fraction of those who are asking him for it; the administration has received tens of thousands of applications, per the Times, after the the Department of Justice expanded its criteria last year for those applying for commutations. President Obama has committed to rethinking the U.S. system of mass incarceration, which tends to disproportionately affect the poor and minorities through practices like mandatory minimum sentencing. This is also one of the rare areas where Democrats and Republicans agree changes are necessary, if for different reasons. Both the House and the Senate are working on criminal-justice-reform legislation.
Obama also pardoned two offenders incarcerated for counterfeiting and bank fraud, reports USA Today. A pardon goes a little farther than a commutation; it absolves individuals of crimes, whereas commutations cut short the punishment. With the two today, Obama has issued only 66 pardons during his entire presidency — so far way below his predecessors George W. Bush and Bill Clinton.