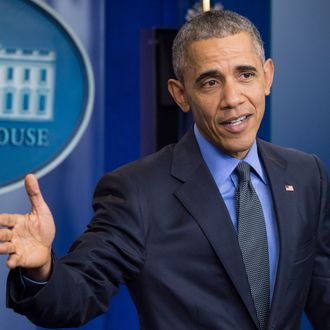 President Barack Obama answers reporters questions during final end of year news conference.
Photo: Ken Cedeno/Corbis
Before heading to Hawaii for a family vacation, President Obama took questions from the press and summed up how he thinks the year went, in addition to explaining what he wanted to accomplish during his last year in office.
Short answer: a lot. 
"In 2016, I'm going to leave it all out on the field," he said. "Wherever there's an opportunity, I'm going to take it."
Important items he's eyeing include criminal-justice reform, getting Congress to approve the Trans-Pacific Partnership, closing Guantánamo, and doing more on climate change. Obama also gave his administration the press-conference equivalent of a slow clap for negotiations with Iran and Cuba, the climate-change conference, and the dropping unemployment and uninsured rates. (Of course, the president's opponents would argue that some of these things are proof of why 2015 was a complete disaster for the White House.) He also congratulated Congress for passing the budget deal, and said that he has a "good working relationship" with House Speaker Paul Ryan — even though they disagree on just about everything.
Given the outsize influence worries about ISIS had on American politics lately, Obama also spoke a bit about foreign policy in the Middle East — an issue for which he has gotten a lot of criticism lately.
"We're going to defeat ISIS," he insisted, although he also added that "there's only so much bombing you can do." Obama added that he still thinks that Syrian President Bashar al-Assad has to go, and that Russia hasn't done much to expedite the end of the conflict in the messed-up country. "I do think you have seen from the Russians that after a couple of months they are not really moving the needle that much," he said. 
He also spoke about the San Bernardino shooting, and the questions that popped up afterward about what federal authorities could have done to uncover what the attackers were planning beforehand. "It is very difficult for us to detect lone-wolf plots or plots involving a husband and wife, in this case, because despite the incredible vigilance of our law enforcement and homeland security, it's not that different from us trying to detect the next mass shooter," Obama said. "You don't always see it … We're going to have to recognize that no government is going to have the capacity to read every single person's texts or emails or social media."
The president is stopping in California before heading to Hawaii to meet with victims and the families of the dead.
The ambitious can watch the whole press conference here:
As the press conference ended, Obama told reporters, "Okay, everybody, I got to get to Star Wars"; the White House is hosting a screening for military families. When a few stormtroopers suddenly appeared at the front of the press room, one reporter yelled, per The Hill, at spokesperson Josh Earnest, "Now we know what side of the force you're on."