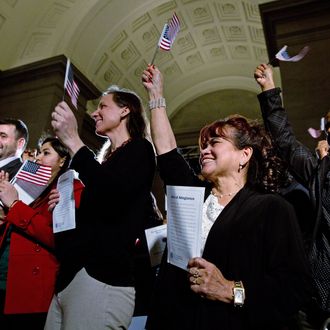 Naturalization candidates wave their American flags after taking the Oath of Allegiance.
Photo: Martin H. Simon/Getty Images
On Tuesday morning, 31 people from 25 countries became American citizens while standing in the same room as the original Bill of Rights, which celebrated its 224th birthday today. 
They were very excited. Muhanned Ibrahim Al Naib, a refugee from Iraq and former translator, told the Guardian, "This means everything. I'll have an American passport, I'll have the strongest country in the world backing me up, whatever I do, wherever I go, so that's a big step: a life-changing experience for me." He took the name of his fiancée and now goes by Zachary Abraham O'Brien. 
Besides the excitement of becoming a citizen, those 31 new Americans got a surprise perk — a speech from President Obama, who had clearly come to the National Archives to enter the debate about immigrants and refugees making news in the U.S. 
>
Just about every nation in the world, to some extent, admits immigrants. But there's something unique about America.  We don't simply welcome new immigrants, we don't simply welcome new arrivals — we are born of immigrants. That is who we are. Immigration is our origin story. And for more than two centuries, it's remained at the core of our national character; it's our oldest tradition. It's who we are.  It's part of what makes us exceptional … We can never say it often or loudly enough: Immigrants and refugees revitalize and renew America.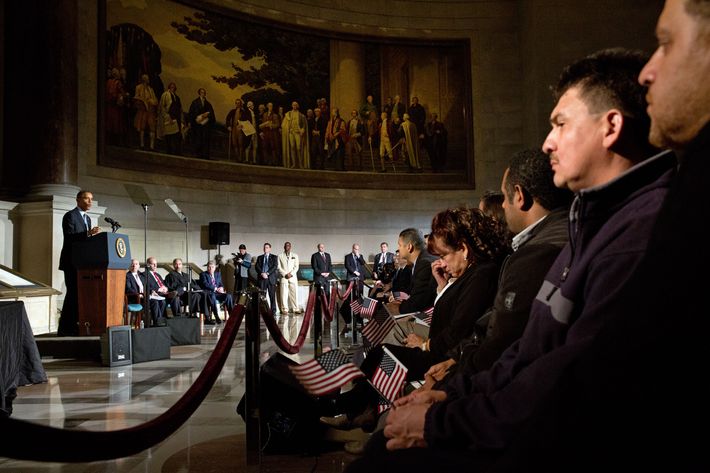 And if anyone had any doubts that Obama had grander political points to make with his speech at the naturalization ceremony, he cleared it all up when calling out those politicians who have advocated for policies that would make it harder for immigrants and refugees to feel welcome here in the weeks since the attacks in Paris and the shooting in San Bernardino  — and noted that it isn't the first time this has happened. 
We succumbed to fear. We betrayed not only our fellow Americans, but our deepest values. We betrayed these documents. It's happened before. And the biggest irony of course was — is that those who betrayed these values were themselves the children of immigrants.  How quickly we forget. 
A few weeks ago, shortly before announcing that he thinks all Muslims should be banned from entering the U.S., Donald Trump said, "When the Syrian refugees are going to start pouring into this country, we don't know if they're ISIS; we don't know if it's a Trojan horse. …  It could be the great[est] Trojan horse of all time." Most of his opponents in the GOP primary agree. Republicans in Congress have been pushing legislation that would make the process of vetting Syrian refugees heading to the U.S. even more complicated; it is unlikely to pass. At least 30 governors from both parties said that they didn't want Syrian refugees — many of whom are mothers and children — resettled in their states. Several recent polls show that a majority of Americans think it is a bad idea to keep admitting Syrian refugees.
"One generation passes, two generation passes, and suddenly we don't remember where we came from," Obama said on Tuesday. "And we suggest that somehow there is 'us' and there is 'them,' not remembering we used to be 'them.'"