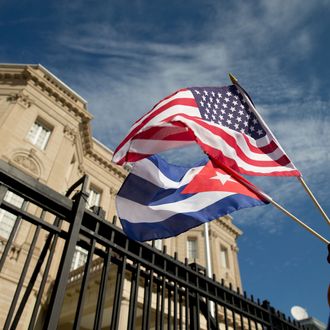 Photo: Andrew Harnik/Corbi
President Obama's to-do list for his last year in office is already impossibly long, perhaps focused mainly on playing defense on things he's already done ("Don't Let Congress Touch [insert policy here]" is probably a recurring feature) and crossing off items on a presidential-perks bucket list (maybe convincing Lin-Manuel Miranda to let him play George Washington in Hamilton, just once, or seizing whatever George R.R. Martin is working on right now as a matter of national interest and reading it before anyone else). However, he is set on trying to do a few big things, too, including taking a trip to Cuba — Calvin Coolidge is the only other president who visited Cuba, thanks to the Cold War and other extenuating circumstances. 
Since last December, Cuba and the U.S. have reopened embassies that have been closed for decades. U.S. flights are starting to head to Cuba, and Cubans might have access to American goods soon, if the embargo is changed. Secretary of State John Kerry visited the country in August, and Obama has been open to the idea for ages. On December 17, 2014, White House Press Secretary Josh Earnest said, "If there's an opportunity for the President to visit I'm sure that he wouldn't turn it down."
Obama told Yahoo News basically the same thing this week, adding that the visit would only be possible if President Raul Castro had done enough on the human-rights front. "If I go on a visit, then part of the deal is that I get to talk to everybody … we would continue to reach out to those who want to broaden the scope for, you know, free expression inside of Cuba." Conservatives who have criticized the White House's moves to restart the U.S.'s relationship with Cuba have pointed to the country's treatment of dissidents and pro-democracy advocates as a reason to show restraint. The Obama administration counters that putting Cubans in closer contact with the U.S. might force Castro to speed up policy changes — especially if it could result in an ease on the embargo. 
"What I've said to the Cuban government is 'If, in fact I with confidence can say that we're seeing some progress in the liberty and freedom and possibilities of ordinary Cubans, I'd love to use a visit as a way of highlighting that progress,'" Obama said, adding, "Obviously, nobody's got better street cred when it comes to, you know, Cuban revolutionary zeal, than one of the original revolutionaries."

In other big Cuba news, the country just made a deal with foreign creditors over 25 years of unpaid debt. According to the AP, creditor nations — not including the U.S., because of the embargo — will cancel $8.5 billion in interest payments if Cuba pays the $2.6 billion it originally owed over the next two decades. Last week, the U.S. and Cuba restarted direct mail between the two nations. For the past few decades, mail was routed through a third country before it could travel between the two places.