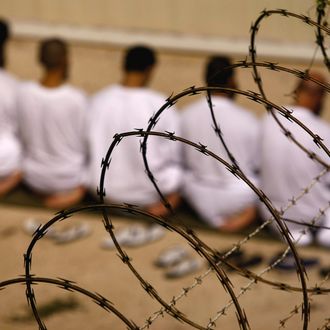 The White House is running out of time.
Photo: John Moore/Getty Images
President Obama is determined to fulfill his campaign promise to shut down the Guantanamo Bay prison before he leaves office, but that doesn't mean he's willing to pay any price. While the White House said it would send Congress a proposal for shuttering the detention center months ago, The Wall Street Journal reports that Obama recently rejected a blueprint from the Pentagon because it would cost $600 million. Eventually housing the remaining detainees on U.S. soil would have cost less than $300 million annually (compared to the current annual cost of $400 million), but Obama told Defense Secretary Ash Carter last month that with the one-time costs the proposal was too steep. The president's rejection makes sense, since he's argued that keeping the prisoners overseas is too expensive, but he's running out of time to be thrifty. A Pentagon spokesperson said the administration is working on another plan to "safely and responsibly" close the prison.