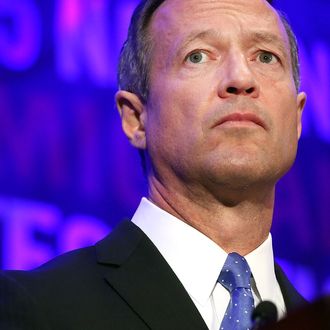 The Great Corn Idol of the Iowa Caucuses Has Demanded Much of Martin O'Malley.
Photo: Spencer Platt/Getty Images
In a July 2014 story, AP's national political correspondent Ken Thomas and longtime Iowa observer Tom Beaumont took note of the fact that Maryland governor Martin O'Malley was doing all the right things to lay the groundwork for a presidential campaign in the first-in-the-nation-caucus state:
O'Malley returned to Iowa on Saturday, where he headlined a fundraiser for state Sen. Rita Hart in Clinton, a town on the banks of the Mississippi River, and another event in North Liberty for Kevin Kinney, a Johnson County sheriff's deputy seeking an open state Senate seat. After a Saturday night speech in Omaha to help the Nebraska Democratic Party, O'Malley was joining with Democratic gubernatorial candidate Jack Hatch, who is challenging Republican Gov. Terry Branstad, for fundraisers in western Iowa on Sunday and a canvassing kickoff in Sioux City.

O'Malley made a round of fundraising appearances for Hatch in Iowa last month, along with a speech at the state party convention. Iowa Democrats hold a narrow majority in the state Senate and party officials here said the governor's willingness to wade into local races was appreciated — and duly noted.

"Helping out legislative races is a really smart strategy. It's an easy way to come out and be helpful," said Norm Sterzenbach, a former executive director of the Iowa Democratic Party. He noted that O'Malley got his political start in Iowa, as a field organizer for Gary Hart's 1984 presidential campaign in eastern Iowa.
A couple of months later, the Daily Beast's Ben Jacobs reported that O'Malley was taking another step to pay his Iowa dues:
Martin O'Malley's incipient presidential campaign already has 11 staffers on the ground in Iowa, working to elect Democrats and build valuable connections for 2016.

Several sources have told The Daily Beast that the Maryland governor…has placed staffers through the Iowa Democratic Party's coordinated campaign, the umbrella organization that runs field efforts for all the Democratic candidates….

 O'Malley, who was the first Democratic presidential hopeful to appear in the Hawkeye State is the only Democrat with staff on the ground in Iowa.
All of this exclusive activity occurred, of course, back when it was not completely certain Hillary Clinton would be running in 2016, and when nobody was talking about a Bernie Sanders campaign. And now, when O'Malley's prudent investments in Iowa should be paying off, he's struggling. As Politico's Nick Gass reports today, O'Malley held an event in the central Iowa casino town of Tama yesterday, and exactly one voter showed up. He got serious face time with the candidate, but left still uncommitted. Yes, the weather was a factor, but that comes with the territory in Iowa, where no-show events don't often happen to well-functioning campaigns with viable candidates. 
If Martin O'Malley runs for president again somewhere down the road, this year's agonizing experience in Iowa will become another valuable investment that will add to the dues he's paid (this assumes, of course, that the national parties have not in the meantime thrown off the shackles of the Iowa/New Hampshire duopoly and created a different calendar). But right now he could be forgiven for harboring a few hostile thoughts toward the great corn idol of the Iowa caucuses and the sacrifices it demands.