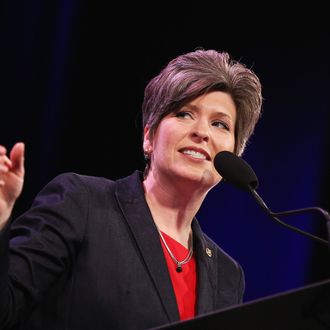 U.S. Sen. Joni Ernst of Iowa.
Photo: Scott Olson/Getty Images
If anything has threatened to displace politics as the preoccupation of Iowans in the autumn of 2015, it's the unlikely success of the University of Iowa Hawkeyes football team, which after a recent history of mediocrity pulled off an undefeated regular season, and on this last Saturday night stood less than a minute away from a Big Ten championship and a spot in the college football playoffs. 
Alas for Hawkeye fans, Michigan State scored a very late touchdown to win, 16-13. Iowa fans gathering on Twitter to commiserate over the bitter loss may have been startled to see this tweet from the junior U.S. senator from the Hawkeye State: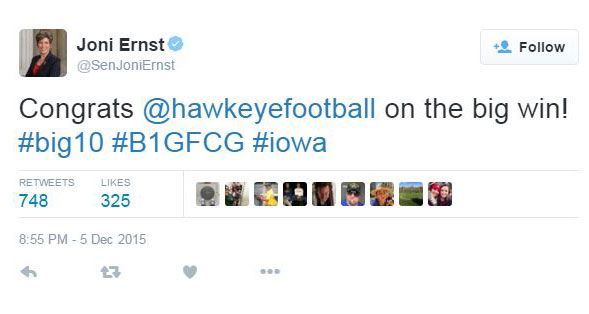 About ten minutes later, the tweet was taken down and blamed on a "staff error" (for the uninitiated, mistakes by politicians not involving their private parts are invariably blamed on "staff errors").  It was a weird screw-up for a pol who during her successful 2014 Senate campaign showed consistent brilliance on all matters remote from political substance. Ernst's "Make 'Em Squeal" slogan, alluding to her upbringing at that most Iowan of iconic locations, a hog farm, may have had nothing to do with anything real, but it helped obscure her background as an extremist crank in the Iowa legislature and made her a bit of a local celebrity and a rising star in the national GOP. 
It doesn't help that Ernst's own alma mater is Iowa State University; some emotional Hawkeye fans may even have interpreted her tweet as a taunt.  She should probably make herself conspicuously present, decked out in gold and black, when Iowa takes the field on New Year's Day in the Rose Bowl.