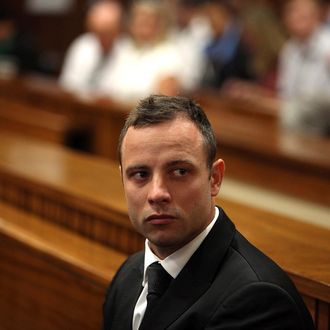 Photo: Alon Skuy/The Times/Gallo Images - Pool/Getty Images
Oscar Pistorius, the former Olympic sprinter, will now be charged with the 2013 murder of his girlfriend Reeva Steenkamp after a South African appeals court overturned an earlier verdict that had convicted Pistorius of the less serious charge of "culpable homicide" — or manslaughter. Pistorius, who is under house arrest in his uncle's huge house after spending less than a year of his five-year sentence behind bars, could now face up to 15 years in prison. 
Prosecutors had appealed the original manslaughter charge, saying the court was incorrect in its interpretation of Pistorius's self-defense argument. Pistorius's attorneys had argued that the athlete believed Steenkamp was an intruder when he fired four shots into a bathroom door. In the appeal, prosecutors countered by saying even if Pistorius believed a stranger was behind that door, he still knew his actions would likely kill someone — a rule known as dolus eventualis. The appeals court sided with the government and agreed that the lower court failed to take this principle into account when it charged Pistorius with manslaughter. 
The court will hand down Pistorius's new sentence in early 2016, and he will likely remain under house arrest until then. According to eNCA, a South African news outlet, it won't be easy for his attorneys to fight the upgraded charges. His attorneys can appeal to the Constitutional Court — but only if they can make the case that Pistorius did not receive a fair trial, which legal experts say will probably be a stretch. They can, however, argue for a reduced sentence, but it's likely Pistorius will head back to prison to serve out at least some of his term, as South African law prevents anyone from spending more than five years under house arrest.