Fan fiction is not real life. But "made-up" has never stopped U.K. tabloids, which published a made-up text exchange between two characters on CW's apocalyptic soap opera The 100 as if it were a charming incident that happened IRL. 
Ryan Broderick points out that the source for a heartwarming Star and Daily Mirror story about a dog named Fish is actually a The 100 fan Tumblr. The made-up text exchange imagines two characters, Clarke Griffin and Lexa, texting about buying a dog (the slash relationship is called "Clexa," in case you were wondering). Lexa, the show's Commander of the 12 Clans, says she's going to buy a goldfish, but then buys a fluffy dog instead! So cute. But not a real thing that actually happened to real humans.

The texts first went viral on Facebook in a degraded form, stamped with watermarks from Samy Irssak. They gained over 830,000 likes, the tabloids jumped in, and followers started to identify themselves as #clarkethehusband or #lexathewife — the stereotypical cranky dude or the flakey woman. Hmmm. This is, as they say, "problematic": The characters the texts were originally assigned to are both women.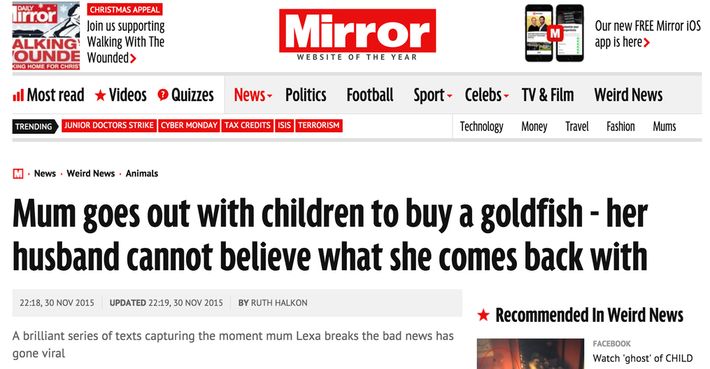 Of course, the show's fandom then rushed to respond, further meme-ifying the meme. The slash never ends.