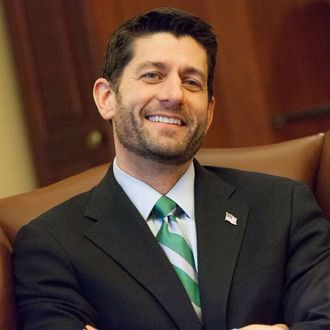 The story of Paul Ryan's rise to the Speakership earlier this fall was marked by some of the same "will they, won't they" that usually comes standard in rom-coms. He loves his job, but he had some hang-ups. The new role could cut down on family time and the precious few hours he gets in the gym.
Now, just a month into his new position, Ryan is looking pretty comfortable, returning from the long Thanksgiving weekend with something approaching a beard.
Ryan's three-day scruff — he attributes the style change to his hunting beard habit — makes him the first Speaker in 90 years to sport facial hair in Washington. He broke the whisker drought that has been in effect since the anti-polygamist Speaker Frederick H. Gillett left the chair in 1925.
Prior to that, facial hair had a long history at the top of the House, to varying degrees of success. The House's History, Art & Archives Department noted in 2013 that Speaker Thomas Brackett Reed ruffled a few feathers in 1895 when he grew a mustache that the Boston Daily Globe characterized as a "downward curve that promises to give his smile more the general appearance of a sneer." Then-Speaker Reed turned up on Capitol Hill clean-shaven a month later.
A spokesperson for Mr. Ryan said his wife gets the final say on whether the trend is reborn, noting, "He'll keep it as long as Janna lets him."