On December 23, Facebook user Stephen Roseman posted this photo:
"This poor dog," the caption reads, "was badly burned and disfigured trying to save his family from a house fire." The photo is, in case the headline was unclear, a dog with a slice of ham on his face. "One like = one prayer," Roseman writes.
Ham dog is insanely viral. As of Wednesday afternoon, the dog and the ham have received 54,000 likes and more than twice as many shares, for a grand total of 1.1 million prayers. Some people are praying for ham dog, who they believe was scarred in a fire, when really, ham dog was only scarred by having to keep delicious ham on his face without eating it.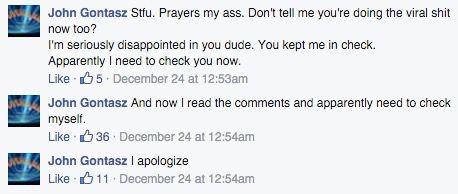 Even though ham dog is doing well, it would not hurt to pray for ham dog anyway. 1 Like = 1 Ham = 1 Dog.