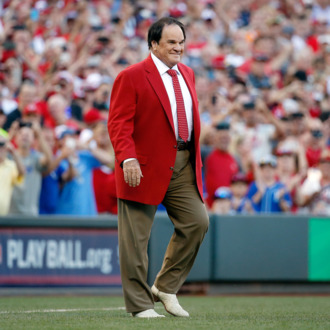 Pete Rose, at this year's All-Star Game.
Photo: Rob Carr/Getty Images
Major League Baseball commissioner Rob Manfred has decided not to lift the permanent ban on Pete Rose, the league's all-time hits leader. Rose was banned in 1989 after the league determined he'd bet on baseball games, and he'd met with Manfred earlier this year to plead his case. The denial of the appeal means Rose's Hall of Fame eligibility status remains unchanged, though the hall itself is ultimately responsible for that decision.
Rose had long denied betting on baseball while managing the Cincinnati Reds, but in his 2004 autobiography, he admitted that not only had he wagered on the sport, but he'd also bet on Reds games. (He says he never bet on his own team to lose.)
This was Rose's third formal appeal of the ban. In 1992, he applied for reinstatement, but then-commissioner Fay Vincent didn't act on his request. He tried again in 1997 but had no luck convincing Bud Selig to overturn the ban. In February of this year, his lawyers filed his third appeal, hoping Manfred, the new commissioner, would see his case differently. The two men met at league headquarters in September, and Manfred said he'd reach a decision by the end of the year.
According to ESPN's T.J. Quinn, Manfred called Rose today to inform him of his decision. Click below to read Manfred's statement: