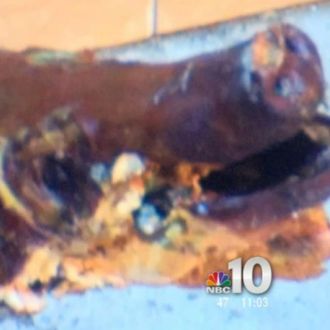 Early on Monday morning, Nabil Khalil, manager of the Al-Aqsa Islamic Society in Philadelphia, which houses a mosque, a school, and an interfaith community center, found a bloody pig's head on the sidewalk. Pork is non-halal, which means that religious Muslims avoid eating it. A few weeks earlier — shortly after the Paris attacks — someone left a voice mail for Al-Aqsa that said, "I hope you people are happy about what you did in Paris. I'd just like to state for the record that Allah is a piece of pork shit."
The FBI is investigating the crime, but regardless of what they find, Khalil is still worried, as are many other Muslims in Philadelphia: "You're always going to be looking over your shoulder." A mosque spokesperson told the Washington Post, "It's just a pig's head — that's not a big deal; but it does send a message. I think people are worried that if they do a pig's head, they could do something more violent in the future."
This is far from the first time anti-Muslim activity has been reported since the Paris attacks and other recent events spurred a tide of heated and fearful political rhetoric. 
This weekend, a Muslim student found a pig's head inside a toilet at a mosque at the University of Western Australia. In late November, Scottish police announced that there had been more than 60 reported religiously motivated hate crimes since the Paris attacks. Someone tried to set a mosque in London on fire; a man went to a butcher in Leeds and asked to buy all of the pig parts there so he could "desecrate as many mosques as possible."
Several incidents have happened in Texas. Someone threw feces and ripped pages from a Koran in front of the Islamic Center of Pflugerville last month. In Irving, Texas, which, according to NPR, is home to "one of the largest mosques in North America" — and also the former home of "clock kid" Ahmed Mohamed — protesters with loaded guns went to the mosque with signs that read "Stop the Islamization of America." Protester David Wright told NPR, "I can show up and protest unarmed and be a sitting duck for the next pair of ISIS members that decide to come along and blow our heads off like they did in California — or I can show up there prepared to defend myself." Mashable reports that there have been 32 reported anti-Muslim incidents in the U.S. since the attacks on November 13. 
Many local and national leaders have condemned these actions. Philadelphia mayor-elect Jim Kenney said in a statement on Monday evening about the incident at Al-Aqsa, "We cannot allow hate to divide us now, in the face of unprecedented difficulties. I ask all Philadelphians to join me in rejecting this despicable act and supporting our Muslim neighbors." A few days ago, Mayor Bill de Blasio gave a speech at the Jamaica Muslim Center. "We are here to say that with every tool we have as a city and with all the capacity of the greatest police force on earth, we will protect this community," he said. "We reject in New York City hate crimes of all kinds. We take them very seriously."
On Sunday, Obama said in his address on terrorism that "we cannot turn against one another by letting this fight be defined as a war between America and Islam. That, too, is what groups like ISIL want. ISIL does not speak for Islam. They are thugs and killers, part of a cult of death, and they account for a tiny fraction of more than a billion Muslims around the world — including millions of patriotic Muslim Americans who reject their hateful ideology. Moreover, the vast majority of terrorist victims around the world are Muslim. If we're to succeed in defeating terrorism we must enlist Muslim communities as some of our strongest allies, rather than push them away through suspicion and hate."