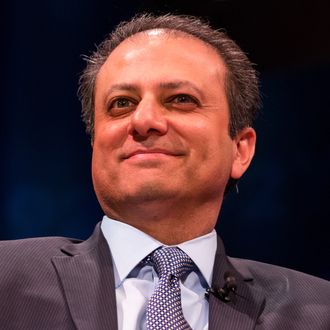 Photo: Michael Nagle/Bloomberg via Getty Images
U.S. Attorney Preet Bharara — who tweeted, "How many prosecutions will it take before Albany gives the people of New York the honest government they deserve?" after both Sheldon Silver and Dean Skelos were convicted of federal corruption charges — told WNYC on Monday that he wanted Albany to start fixing things so he didn't have to prosecute politicians all the time. 
"During the course of all this, there has been, I hate to say it, a little bit more whispered whining on the part of some legislators in the press without attribution than focus on how to solve the problem and focus on healing themselves, and I think that's unfortunate," he told Brian Lehrer. 
Lehrer unsurprisingly asked Bharara about the only man left of the three men in the room, Governor Andrew Cuomo, whose administration ended the Moreland Commission to Investigate Public Corruption last year. Bharara didn't offer any specifics on what reforms he thought Albany should adopt, and he was even less interested in talking about any future plans he might have in the corruption-cases department. 
"I'm not going to talk about any investigations that we have open," he said. "We have lots of investigations open." Lehrer asked a few follow-ups on Cuomo and Bharara's 2016 plans. The prosecutor was not interested in offering any different answers. "I don't answer hypotheticals. Nice try for the third time. I'm here to talk about what's not hypothetical, and that's the convictions of two leaders and the evidence that was put forth that shows the problems we have in this state."
This weekend, Cuomo said he's planning on announcing a bunch of campaign-finance and ethics reforms he'd like to enact in his State of the State address next month. On Saturday, the governor signed an executive order that will expedite the appeal process after a Freedom of Information Law request is denied. A day earlier, he vetoed legislation that would have done the same thing. He took no action on another Freedom of Information reform bill that was vetoed last week.
Later on Monday, Mayor Bill de Blasio gave Bharara a big thumbs-up, saying that he had "done a fantastic job. I think we all owe him a debt of gratitude."
A new Siena College poll released today shows that 89 percent of New Yorkers think corruption is a problem in Albany. Sixty-three percent believe that reform legislation is necessary, and 22 percent think the downfalls of Silver and Skelos will convince lawmakers to behave. Seventy-three percent of New Yorkers have no idea who Preet Bharara is.