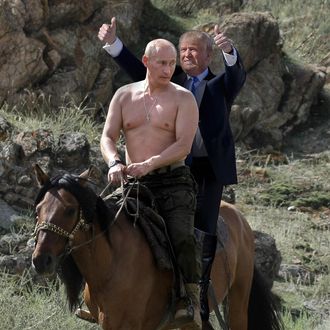 Making America great again, together.
Photo-Illustration: Photos: AFP/Getty Images
Donald Trump has admitted in the past that he's a bit of a Vladimir Putin fanboy. He has given the Russian president an A for leadership and said he thinks they'd probably "get along pretty well" if they met.
Trump also somehow "got to know him very well" when the two filmed separate interviews on separate continents that appeared on the same episode of 60 Minutes. And Trump said after the fifth debate Wednesday, "I will get along — I think — with Putin, and I will get along with others, and we will have a much more stable — stable world. I would talk to him. I would get along with him."
But until Thursday it was just a one-sided bromance. Now it seems the feeling is mutual. At his official end-of-the-year press conference, the Russian leader talked about everything from the Russian economy (he predicts growth next year and the year after that) and the recent close calls with Turkey in Syria ("The Turks decided to lick the Americans in a certain place.") to ousted FIFA president Sepp Blatter ("He is the one who must be awarded the Nobel Peace Prize"). He also weighed in on the U.S. presidential race and had only nice things to say about candidate Trump.
"He is a very outstanding man, unquestionably talented," Putin said. "It's not up to us to judge his virtue, that is up to U.S. voters — but he is the absolute leader of the presidential race."
Putin also seems pretty enthusiastic about hanging out one day. "He says that he wants a different level of relations, tighter and deeper relations with Russia, how can we not welcome that? Of course we welcome it."
Putin didn't address any of Trump's specific policies, including his ban on Muslims, saying, "It's not our concern to evaluate his work."
Later Thursday, Trump brought up Putin's flattery at a rally in Columbus, Ohio, reports The Hill, telling his supporters, "It is always a great honor to be so nicely complimented by a man so highly respected within his own country and beyond."
He added that he "always felt that Russia and the United States should be able to work well with each other towards defeating terrorism and restoring world peace, not to mention trade and all of the other benefits derived from mutual respect." 
Trump called in to Morning Joe Friday, and hosts Mika Brzezinski and Joe Scarborough followed up with the GOP candidate about Putin's comments. 
So when asked if he liked what Putin said, Trump said he sure did. "When people call you brilliant, it's always good. Especially when the person heads up Russia."
Scarborough tried to point out that maybe bragging about compliments from an authoritarian leader with whom the U.S. is not on the best terms for a host of reasons might not be the most tremendous thing."Well, also is a person who kills journalists, political opponents, and invades countries. Obviously that would be a concern, would it not?"
"He's running his country," Trump responded, "And at least he's a leader, unlike what we have in this country."
Scarborough tried again to bring up Putin's tactics of killing journalists, to which Trump fired back: "Well, our country does plenty of killing, also so."
"There's a lot of stupidity going on in the world. A lot of killing going on. A lot of stupidity. And that's the way it is."
At least candidate emeritus Mitt Romney stepped in to clear things up. 
This post has been updated throughout.