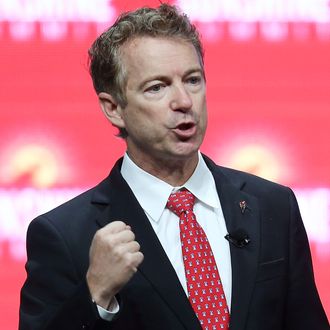 Rand has a lot of problems with you people.
Photo: Joe Raedle/Getty Images
This fall, several candidates at risk of being relegated to undercard debates argued their way onto the main stage by lobbying networks to bend the rules for them. That task got a lot trickier when Fox Business Network announced that only about six candidates will be invited to its prime-time debate on January 14, but on this Festivus, Rand Paul is attempting a feat of strength. "I won't participate in any kind of second-tier debate," Paul said in a Wednesday radio interview with Fox News host Brian Kilmeade. "It's the kids' table, and at that table you're not considered to be a competitor, not considered to be having a chance."
The Kentucky senator went on to explain that being downgraded to the undercard would "destroy the campaign," and he feels his operation is top-notch, particularly in Iowa. "Doesn't mean I'm gonna win, but I think without question we have a first-tier campaign and we just can't accept the designation of being artificially told that we don't have a chance with three weeks to go," he said. "So we won't stand for it and we will protest any such designation."
Paul, Chris Christie, John Kasich, and Carly Fiorina are all at risk of being booted from the main stage. According to Politico, Paul is just 0.3 points short of qualifying, and he said none of his rivals should be excluded if their numbers fall within the margin of error.
The undercard debate only exists because there are too many GOP candidates to fit on one stage, but Paul had a humble suggestion for the networks. "I think eight or nine on a stage is not too many to have a substantive debate," he said. "I mean, if you get rid of some of the silliness with Donald Trump you'd have a chance to get some more substantive debate also." Trump's just the front-runner and the biggest ratings draw — why does he get all the attention?