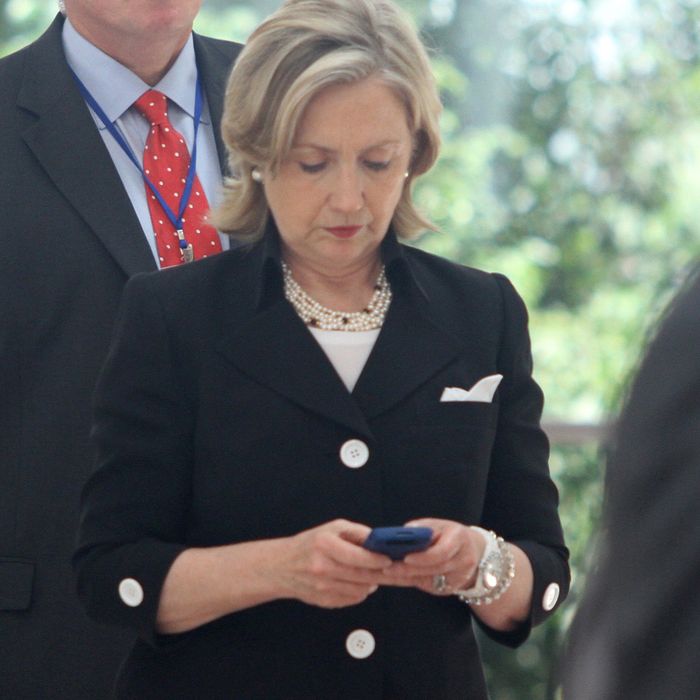 Photo: Na Son Nguyen/AFP/Getty Images
Another month, another batch of Hillary Clinton email that contains nothing incriminating about the Benghazi attack. In the State Department's latest dispatch – the largest to date at 78,000 pages – the former secretary of state muddles through 2012 and 2013 with the help of her trusty staffers. Together they dismiss criticism of her Benghazi testimony, deal with the aftermath of Clinton's concussion, and try to figure out what channel Homeland is on. You can search the entire archive here, or just check out the highlights below.
On Christmas Eve 2012, Clinton jokes about her "cracked head" in an email to senior adviser Philippe Reines. He says he's reached out to NFL Commissioner Roger Goodell and former Senate Majority Leader Bill Frist, and things get a bit awkward.


Clinton thinks he's giving her doctor recommendations, and he explains he "wouldn't ever do that." He was enlisting their help to counter the armchair head trauma experts on cable news.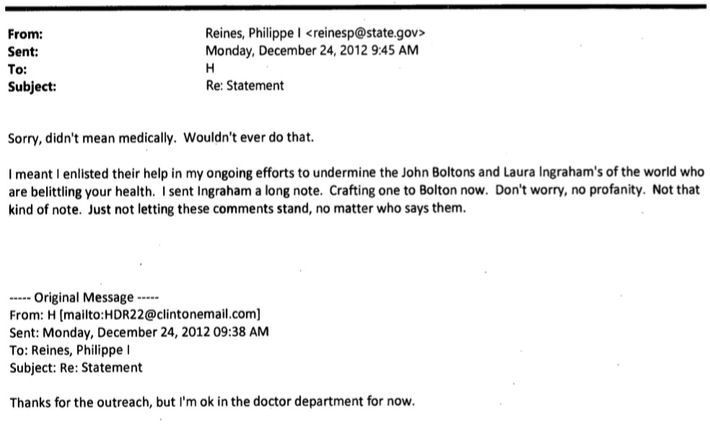 Following her first round of Benghazi testimony before Congress, campaign adviser Mark Penn suggests that her "What difference, at this point, does it make?" outburst was a bad move. Clinton forwards the criticism to her team because she's all about keeping it real.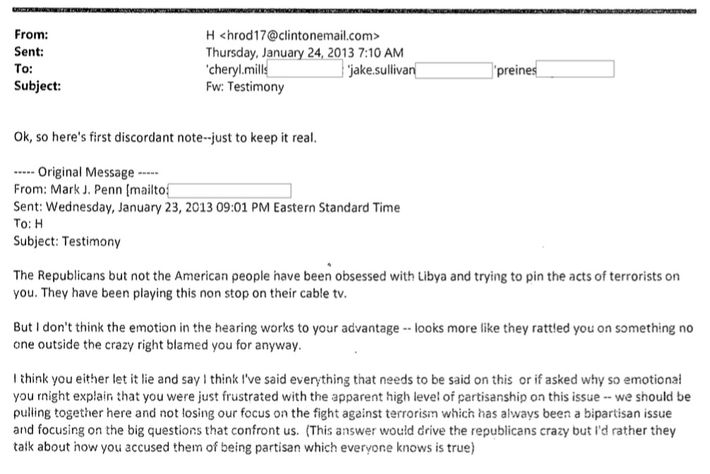 But they quickly agree that Penn's constructive criticism is ridiculous; clearly her entire performance was #flawless.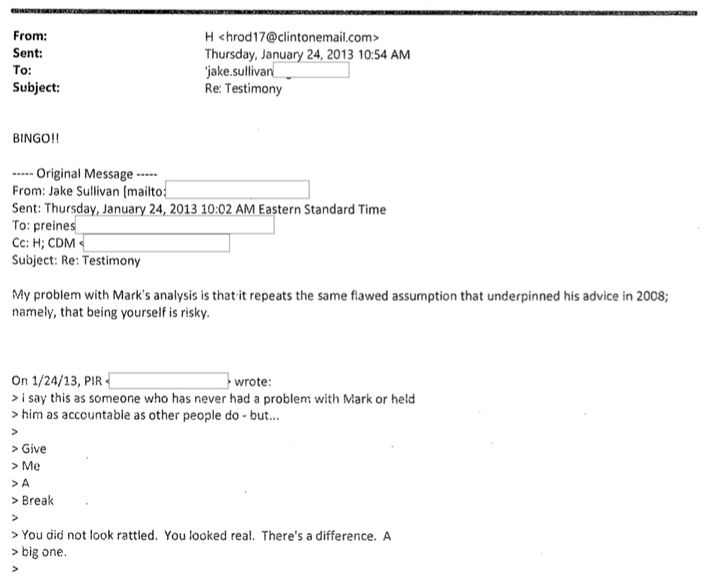 The email below contains exciting news for fans of Homeland, and disappointing news for people who want their government officials to understand how Google works.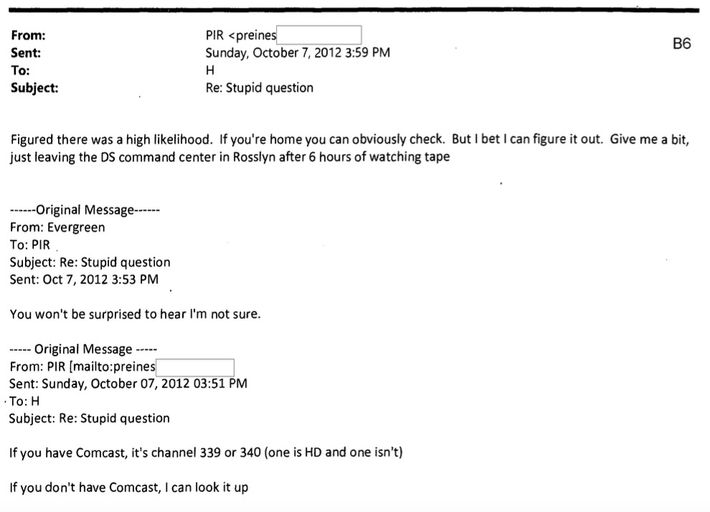 In an email to Sidney Blumenthal, Clinton offers her analysis of the Florida GOP primary race between "Mittens" and "Grinch."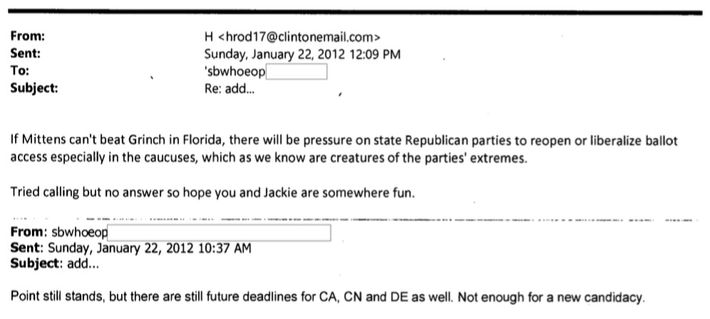 Reines suggests that Clinton spend the tail end of her time in office visiting random countries to "run up the score" on nations visited in comparison to other secretaries of state. All this time, Albania thought her visit really meant something.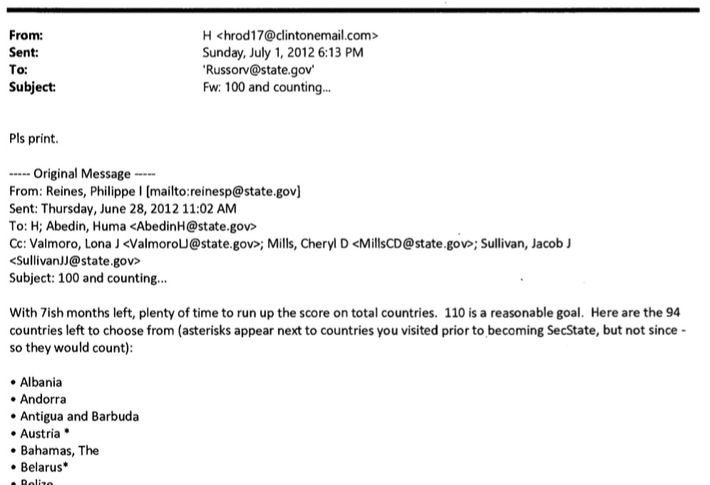 The mystery over Clinton's personal care abilities continues: while she was unable to identify her cable provider without the help of an aide, it seems she attempted to put her hair in this elaborate bun rather than consulting her hair and makeup team.


While Clinton is fond of telling people to refer to Hard Choices for more on her time as secretary of state, at one point she summarized her achievements on a single page – which, unfortunately, was completely redacted.