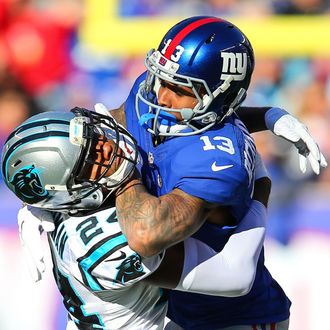 Odell Beckham Jr. and Josh Norman during yesterday's controversial Giants-Panthers game.
Photo: Rich Graessle/Icon Sportswire/Corbis
During yesterday's Giants loss to the undefeated Panthers — in which New York rallied back from a huge deficit only to lose on a last-second field goal — wide receiver Odell Beckham Jr. and Carolina cornerback Josh Norman got rough with each other on multiple occasions. But one incident in particular has been the talk of the football world since yesterday: Beckham popping Norman with a dirty head shot in the third quarter. (Beckham, who received three personal foul penalties in the game, was suspended for one game for his conduct yesterday.) Today, however, comes a weird twist in the story that could at least partially explain why Beckham lost his cool: There are reports that at least one member of the Panthers organization wielded a baseball bat on the field before the game and motioned it toward Beckham, who was reportedly also verbally threatened.
Says reporter Adam Schefter, in a Facebook post:
In pregame warmups, at least one Panthers official, and possibly more, carried black baseball bats on to the field and were motioning with them towards Odell Beckham Jr. while making comments to him, per a league source. Norman later grabbed the black bat and was swinging it in pregame warmups – which, by the way, an NFL Films camera captured. Beckham, according to another source, felt threatened and it helped put him in a certain frame of mind. It does not excuse what he did during the course of the game, but it does explain what led up to the battle that still is the talk of the league today.
There are similar reports elsewhere. One says that Marcus Ball, a Carolina practice-squad player, was holding a bat pregame, and at one point had to be separated from Beckham. Deion Sanders told Rich Eisen's radio show that Norman had a bat on the field before the game and told Beckham "he's going to end his career." Art Stapleton of the Record, meanwhile, tweets, "I'm told there were comments made in direction of Odell Beckham Jr. + other players about how Panthers coming to 'beat the s**t out of him.'" And another report, from CBS Sports' Jason La Canfora, says that the Giants reviewed the incidents and are "convinced [Beckham] was threatened physically and called homophobic slurs."
There's video evidence to support the presence of bats on the field, though the Panthers dispute they were used to menace Beckham.
Via Deadspin, here's a clip in which Ball appears to point a bat at the Giants before the game:
And here's another in which Norman is holding a bat, though he's with teammates at the time.
Panthers officials have strongly denied that any slurs or threats to injure Beckham were made. They also say the team uses the bat to symbolize "bringing the wood," which they (and other teams) use as a motivational saying.