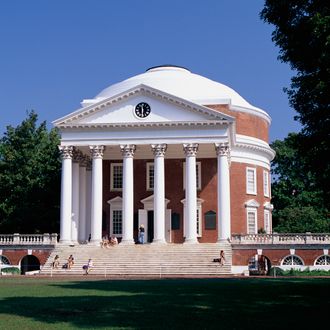 The Rotunda at UVA.
Photo: David Sailors/Corbis
More than a year after Rolling Stone published the now-discredited account of a horrific gang rape at the University of Virginia, the magazine is still dealing with the fallout. On Wednesday, Rolling Stone's attorneys filed a motion to dismiss a lawsuit brought by three UVA alums who say "A Rape on Campus" led to them being wrongly identified as the men who raped "Jackie," according to NBC News. George Elias IV, Stephen Hadford, and Ross Fowler, who are all former members of Phi Kappa Psi, said in a defamation filed last summer that they suffered "vicious and hurtful attacks" from those who presumed they were the attackers described in the article.
The magazine's attorneys argue that the men were not identified or described physically in the story, and "No reasonable reader would understand from the article and the proffered extrinsic evidence that plaintiffs are identified as the perpetrators." The men are suing on three counts and seeking at least $75,000 in damages per count. The magazine is also facing a $7.8 million lawsuit filed by UVA associate dean of students Nicole Eramo, and a $25 million suit from the fraternity.