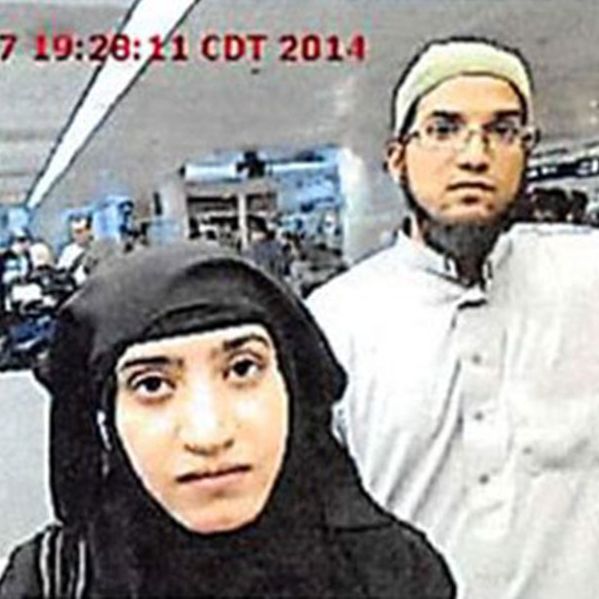 Surveillance photo of Syed Rizwan Farook and Tashfeen Malik at Chicago O'Hare.
On Wednesday, FBI director James Comey revealed that the San Bernardino shooters had been thinking about an attack far longer than previously believed — even before the rise of ISIS — and that the suspects were radicalized before they even met.
"Our investigation to date shows that they were radicalized before they started courting or dating each other online, and as early as the end of 2013 were talking to each other about jihad and martyrdom before they became engaged and married and were living in the U.S.," he told reporters.
"We believe they were inspired by foreign organizations," he added. "We are working very hard to see if anyone else was involved in assisting, equipping or helping them. And did they have other plans?" 
These new details open up plenty of new questions, many of which the authorities don't have the answers to — or are unwilling to discuss yet. For example, were Syed Rizwan Farook and his wife, Tashfeen Malik, sent to the U.S. with the specific intent of carrying out an attack? "That would be a very, very important thing to know." However, Comey said, "I don't know the answer to that yet."
CBS News says Farook could have been thinking about an attack way back in 2011. It's unclear how fleshed-out the plan was, but he was reportedly considering a specific location in California, per CNN. The idea was abandoned after a round of terror-related arrests in the area. "They got spooked," said one of the officials. The San Bernardino Sun reported on Tuesday that the FBI found several photos of Carter High School in Rialto, Californi, on his cell phone. Farook also had to inspect food-preparation areas at schools for his job; according to the Sun, his "signature, which is clearly legible on his letter grade ratings of Rialto Unified food service facilities, has been covered up by Post-it notes by staff at many of the locations, so as to not alarm patrons."
Investigators are also curious about gun purchases made by Enrique Marquez, Farook's former neighbor, in 2011 and 2012 — around the same time investigators believe the suspect first began thinking about an attack. Fox News reports that investigators learned about the 2012 attack plan from Marquez, who has been cooperating with authorities. 
Marquez was a recent convert to Islam, although he had been friends with Farook since they were both kids. According to Reuters, he married Farook's brother's wife's sister last year. 
One of his friends told ABC News that at a party a few months ago he "said something along the lines of, 'There's a lot of Muslims in our own backyard, just ready to go haywire and attack.' And we didn't think nothing of it. We just brushed it aside, you know. He was drunk, so I don't know." His stepfather told the New York Times, "It is so strange to us. We don't have anything to do with guns."
Marquez has not been charged with anything yet, but authorities told ABC News that might change in the future.
NBC News reports that Farook and Malik may have begun discussing the Inland Regional Center as far back as three years ago, according to law-enforcement sources, and preparations for the attack took at least a year. The FBI said earlier this week that the couple practiced shooting in the days before the massacre, and according to the AP, Farook visited Riverside Magnum Range on November 29 and 30. Two sources told NBC that Farook had been visiting the gun range for a year or more, and was sometimes joined by Malik.
Twelve pipe bombs and thousands of rounds of ammunition were found inside the couple's home in Redlands, California. "Clearly they were equipped and they could have done another attack," San Bernardino police chief Jarrod Burguan said earlier in the investigation. Officials have not been able to determine what other sites they may have been targeting.
Earlier on Tuesday, several outlets reported that last month Farook took out a $24,500 loan from Utah-based WebBank, which was arranged by the online lender Prosper. According to Fox News, Farook withdrew $10,000 in cash, and made at least three transfers of $5,000 in the day before the shooting, apparently to his mother. The couple left their 6-month-old daughter with Farook's mother on the morning of the shooting, and counterterrorism officials told NBC News that they had considered how the baby and her grandmother would be cared for after the attack. "They had purposely thought through that problem," said one official. "There were other indications of preparations."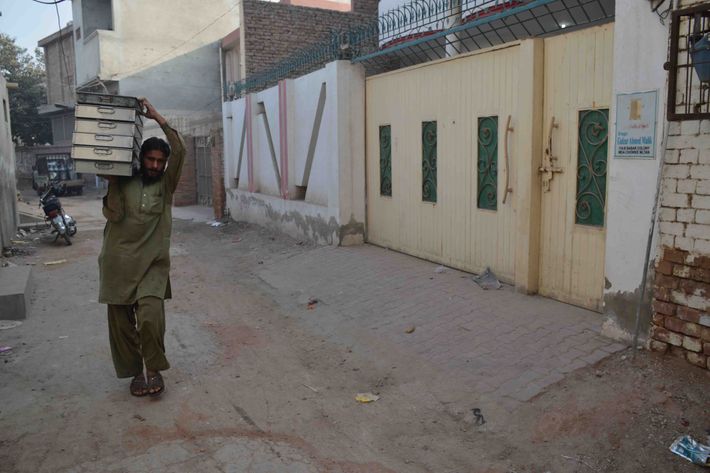 If Farook was plotting an attack in 2011 or 2012, that predates his first face-to-face meeting with his future wife in Saudi Arabia in 2013. The shooters said they "pledge allegiance" to the leader of ISIS in a Facebook message Malik posted before the attack, but sources tell CNN that investigators believe she was radicalized well before she came to the U.S. last year, and prior to the rise of ISIS. 
Malik's name was run through law-enforcement and national-security databases before she was allowed to enter the country on a K-1 visa. No alarms were raised during the vetting process, though The Wall Street Journal notes it's odd that a strict Muslim couple used the K-1 visa, since cultural norms prohibit co-habitation before marriage. Of the nearly 40,000 K-1 visas issued last year, only four were issued in Saudi Arabia and 519 in Pakistan.
A law-enforcement official said the FBI is still looking into how and when Farook and Malik became radicalized, and who influenced whom, but "it's looking like they were on the same path at the same time."
On Wednesday, the Associated Press spoke to Malik's father, Gulzar Ahmad Malik, who lives in Saudi Arabia. "I am in such pain that I cannot even describe it," he said. Malik did not speak long; he said he had already given a statement to Saudi intelligence. 
Both of Farook's parents have been put on a terror watch list.