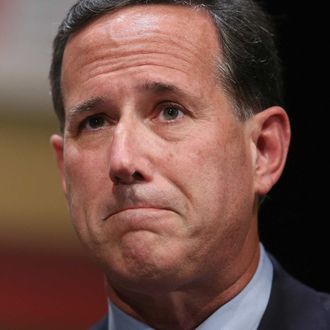 Sometimes you gotta take that earned media wherever you can find it, or so Rick Santorum seems to think.
Photo: Scott Olson/Getty Images
As you may have heard, Donald Trump demanded an apology from Hillary Clinton for suggesting the Donald was figuring prominently in ISIS recruiting propaganda (she subsequently changed her claim to the more verifiable assertion that Trump's Islamophobic statements were being widely reported in Arab media). Rick Santorum could be on the brink of demanding an apology for not being accused of providing propaganda bait for ISIS.
Yes, as reported by BuzzFeed's Andrew Kaczynski, Santorum wants the world to know that he, not Trump, has been singled out in ISIS propaganda.
The only person that's been listed in ISIS magazine as an enemy of ISIS is me. And you know why they listed me? If you go back and read the article that was in the April edition of ISIS magazine online, it wasn't because I was criticizing or taking on the Muslim religion, or I was pontificating on what we need to do to make Muslims like us. The reason I was identified as an enemy was because I identified who they are."
If you wonder what that means, you can read the ISIS document (from the online magazine Dabiq) in question and ask yourself what they're quoting Santorum on if not the functional identification of the terrorist group with Islam:
This is a caliphate that has been established and that means they are calling people from all over the world to come and fight this battle. As long as they hold ground and continue to expand that ground, more and more will come. The fact that we are delaying means that the Caliphate continues to exist. They are not losing ground. They are not being discredited in the eyes of the Muslim world. They will get stronger. … This is really important to understand. The reason the West had a thousand year war with Islam is that Islam was ever expanding. When Islam began to contract, it collapsed, and the caliphate was eliminated. Now they have established a caliphate. They are dead serious about expanding it. Unless we begin to take back that ground and make this caliphate just irrelevant in the eyes of the radical Muslim world, we are going to have a bigger and bigger problem.
Don't know about you, but I'd say treating the fight against ISIS as a continuation of the West's "thousand year war with Islam" that is inevitable whenever Islam expands is pretty much a confirmation of ISIS's worldview, or at least its view of us "crusaders." That Santorum is boasting of this quote instead of ignoring it or trying to explain it away is a real testament to how badly his presidential campaign is faring. When you have to get earned media via ISIS, it's probably time to pack it in.