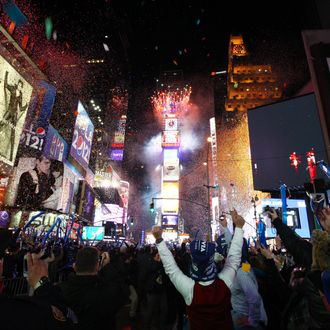 Photo: Neilson Barnard/Getty Images
People from all around the world will be congregating to celebrate the arrival of a new year — which is stressing out law enforcement everywhere, especially given ramped-up fears after the attacks in Paris. 
There will be more than 6,000 police officers stationed in Times Square, which millions of people will descend upon for the chance to stand only blocks away from Ryan Seacrest and watch a giant shiny ball drop a few feet. There have been no credible threats against New York City, per Mayor Bill de Blasio, but the city just wants to be extra careful. "We are the best prepared city in the country, the best prepared city to prevent terrorism and to deal with any event that could occur," he said on Tuesday. "There'll be obvious security measures you will see, and a number of measures you won't see. What we can assure you is that preparations are extraordinary." NYPD chief of department James O'Neill added that "there'll be hundreds of traffic agents, plus additional mobile cameras, chemical and radiation detectors. Specially trained police dogs sniffing for traces of explosives, cops on horseback, police helicopters and police boats."
No one will be able to bring backpacks to Times Square.
Despite the fact that a significant number of people attending the Times Square festivities will be paid to be there, NYPD commissioner Bill Bratton said on Morning Joe that everyone should "come on down [because] we're going to have the best party in the world."
In Brussels, where two people were arrested this week for allegedly planning a New Year's attack, fireworks have been canceled. Fireworks were also canceled in Paris, where there will be "a very significant presence" of security forces. Plenty of people plan on partying anyway. One person told EuroNews, "We still think about the attacks, but you have to ignore all that and just live your life. Our life. We'll be there on December 31."
London plans on keeping its fireworks but will also deploy 3,000 police officers to the festivities. In Madrid, the metro station at Puerta del Sol — where thousands of people usually celebrate New Year's — will be closed today and tomorrow. According to Deutsche Welle, "backpacks, bags, suitcases, folding chairs, glass bottles, fireworks, megaphones, and laser pointers" have all been banned from festivities near the Brandenburg Gate in Berlin. Security is tight in Morocco, too, a country that depends on tourism revenue — and hasn't dealt with an extremist attack since 2011.  
On Wednesday, Turkey arrested two alleged Islamic State militants who were believed to be plotting a bombing in Ankara this week. 
After Christmas, Austria warned its neighbors that a "friendly" intelligence service told them about a possible attack — a shooting or bombing — in European capitals before the end of the year. 
Plenty of other places in the states are also getting ready for tomorrow by upping security. In Las Vegas, officials are telling partiers to not bring backpacks or strollers to the Strip. According to the AP, "tips from the community about suspicious activity have tripled since the Paris attacks but there have been no credible threats." 
In Pasadena, security has also been beefed up in preparation of the Rose Bowl and Rose Parade, where "federal personnel will be employing a variety of explosive-detection methods, as well as at key venues across the city from bomb-sniffing dogs to sophisticated devices that register even minute amounts of radiation," according to a DHS special agent in Los Angeles, per CBS News.
As in all of the other places mentioned above, there have reportedly been no credible threats. In Bangladesh, however, the U.S. embassy has been warning about possible attacks against hotels, per CNN. In Dhaka, the capital, outdoor parties will be banned tomorrow night.
In other news, Donald Trump is helping host a New Year's Eve special, and it costs more than $100 to celebrate the arrival of 2016 with an extra helping of Donkey Sauce.