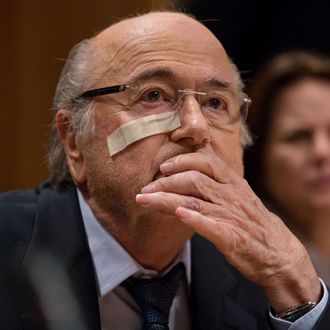 Says Sepp Blatter: "I'm sorry that I'm as president of FIFA this punching ball."
Photo: Philipp Schmidli/Getty Images
FIFA President Sepp Blatter and UEFA President Michel Platini were barred from soccer for eight years by FIFA on Monday morning, after being found guilty of ethics violations. Both men had been provisonally suspended since October, while the investigative arm of FIFA's ethics committee looked into their actions. But in a news conference after the ruling came down, Blatter vowed to appeal the decision, saying, "I'll be back."
The judiciary chamber of the ethics committee has been looking at a particular payment of about $2 million that Blatter approved for Platini in 2011. Via the Times, it found that there was no legal basis for the payment, and that both men were guilty of a conflict of interest. Said the committee in a statement: "Neither in his written statement nor in his personal hearing was Mr. Blatter able to demonstrate another legal basis for this payment. His assertion of an oral agreement was determined as not convincing and was rejected by the chamber."
Platini had worked as a special consultant to Blatter from 1999 to 2002, and in 2011, Blatter approved a $2 million payment that he said was back payment of salary owed. There was no written contract detailing the payment, and Platini has described it as a "gentleman's agreement" to cover the rest of the money he was due. But FIFA investigators found the timing suspicious, as it came shortly before Blatter began campaigning for his fourth term as president of the sport's governing body, with UEFA throwing its support behind him.
On Monday, Blatter denied any link between the payment and the election, and said he'd appeal the decision with the Court of Arbitration for Sport. He also described himself as a "punching ball" during at the often rambling press conference. Via ESPN:
"I'm really sorry," he said. "I'm sorry. I am sorry that I am still somewhere a punching ball. I'm sorry that I'm as president of FIFA this punching ball. I'm sorry for football.

"I am sorry for the 400-plus FIFA members. I'm sorry. I am sorry about how I am treated in this world of humanitarian qualities. I'm sorry for the Federation Internationale de Football Association.

"But I'm also sorry about me, how I'm treated in this world."
Added Blatter to conclude the press conference: "I'll be back."
Platini is expected to appeal the decision as well, though the ruling seemingly ends his chances of running in a special election in February that will determine the next president of FIFA.