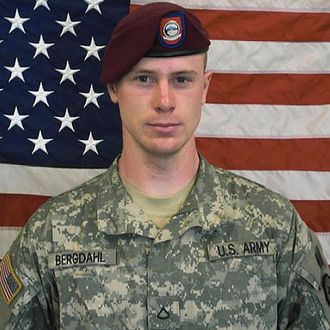 After spending nearly five years as a captive of the Taliban, Sergeant Bowe Bergdahl now faces a potential future of a life in prison, after an announcement by the Army on Monday.
His case has been referred to as a court-martial; the Army's investigating officer originally said that sending Bergdahl to prison for a long time would be "inappropriate." Bergdahl, who was assigned to a desk job at a base in Texas, faces desertion and misbehavior before the enemy charges after disappearing from his post in Afghanistan in June 2009. The White House traded him for five Taliban leaders in 2014 — a swap that was widely condemned by conservatives. Back in October, Senator John McCain, a veteran who was captured during the Vietnam War, told the Boston Herald, "If it comes out that he has no punishment, we're going to have to have a hearing in the Senate Armed Services Committee."
Bergdahl's attorney said in a statement on Monday, according to ABC News, "We will continue to defend Sgt. Bergdahl as the case proceeds. We again ask that Donald Trump cease his prejudicial months-long campaign of defamation against our client. We also ask that the House and Senate Armed Services Committees avoid any further statements or actions that prejudice our client's right to a fair trial."
This summer, Trump called Bergdahl a "dirty, rotten traitor" while campaigning in New Hampshire.
Last week, the first episode of the second season of the podcast "Serial" was released. The whole season of the show — which stretches out a reported investigation over many hours of audio — is devoted to Bergdahl, who has not spoken to the press since returning to the U.S. The show relies on his taped conversations with filmmaker Mark Boal. In the first episode, Bergdahl says he left his base because he wanted to call attention to problems with leadership in his platoon. "Doing what I did is me saying that I am like, I don't know, Jason Bourne … I had this fantastic idea that I was going to prove to the world that I was the real thing," he said. "You know, that I could be what it is that all those guys out there that go to the movies and watch those movies, they all want to be that, but I wanted to prove that I was that."
The arraignment hearing date has not yet been set.