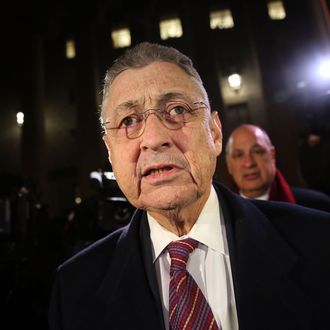 NEW YORK, NY - NOVEMBER 30: Former New York Assembly Speaker Sheldon Silver leaves a federal court in Lower Manhattan on November 30, 2015 in New York City. A jury found Silver guilty on all seven charges against him in a federal corruption trial that lasted five-weeks. (Photo by Spencer Platt/Getty Images)
Photo: Spencer Platt/Getty Images
Sheldon Silver, the former Assembly speaker convicted on Monday of corruption, has officially applied to receive his generous pension from the state of New York.
The 71-year-old Democrat filed his pension papers to the comptroller's office exactly one day after getting convicted of seven felonies, including bribery, extortion, and money laundering, Politico New York reports. Exactly how much Silver's pension is worth is unknown, but several groups have estimated it could be anywhere from $85,000 to $98,000 a year.
"You've got to be kidding me,"Dick Dadey, director of watchdog group Citizens Union, told the New York Daily News. "The brazenness continues. I'm speechless. Sadly, he's entitled to it, but it's an awfully brazen move to seek it days after he's convicted. It shows the sense of entitlement that is a problem with legislators like him."
The New York state legislature ruled in 2011 that officials convicted of public corruption would be stripped of their pensions — but the law wouldn't apply to officials already in office. Silver had served in the Assembly since 1977. Though the comptroller has yet to approve Silver's pension application and work history, U.S. Attorney Preet Bharara has already vowed to make him give up the money as partial restitution for his crimes.
Silver faces up to 130 years in prison and — potentially — an annual gift of more than $85,000 for the rest of his life.