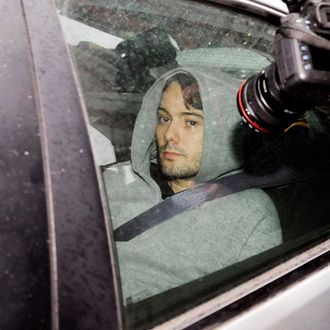 The bad news keeps coming.
Photo: Louis Lanzano/Bloomberg via Getty Images
Martin Shkreli, the "most hated man in America" and a "pharma bro" known for raising drug prices by nearly 5,000 percent and spending $2 million on a Wu-Tang Clan album, resigned from Turing Pharmaceuticals on Friday. A day earlier, the former CEO was arrested on securities-fraud charges after allegedly running a "Ponzi-like scheme" at an old job. He pleaded not guilty and was released on $5 million bond.
While at the company, he acquired Daraprim, a drug that helps patients who have cancer or are HIV-positive, and raised the price per pill from $13.50 to $750. Earlier this month, Shkreli said if he could go back and do it again, he'd raise the price even higher. 
Ron Tilles, chair of Turing's board, will be the privately held company's interim CEO. He released a statement that looked as though it were copied from a Microsoft Word template for statements about departing and disgraced management: "We wish to thank Martin for helping us build Turing Pharmaceuticals into the dynamic research focused company it is today." Tilles added, "We wish him the best in his future endeavors." Shkreli's future endeavors could include up to 20 years in prison. 
Shkreli is also the CEO of KaloBios, a publicly traded company that saw its shares drop 53 percent yesterday. NASDAQ halted trading on KaloBios Thursday, saying it was waiting for "additional information" from the company on its changing fortunes.
By the time Shkreli's tumultuous Thursday was over, he was already back on Twitter. His tone was somewhat more subdued than usual.