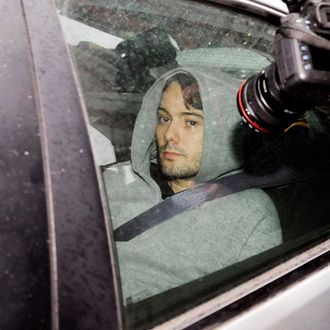 "What do you do when you have the attention of millions of people? It seemed to me like it would be fun to experiment with."
Photo: Louis Lanzano/Bloomberg via Getty Images
Martin Shkreli has had a busy month. First, the "pharma bro" said he wished he had raised the prices of the drug Daraprim — which he caused to go up from $13.50 a pill to $750 a pill — even higher. A few days later, news got out that he was the mysterious buyer of the one-of-a-kind Wu-Tang Clan album Once Upon a Time in Shaolin — and that Shkreli, who has been called "Mr. Wu-Tang" by an actual U.S. senator, was saving it for a rainy day, unless maybe Taylor Swift wanted to come over and listen to it?
And then the rainy days came. Last week, 32-year-old Shkreli was arrested on securities-fraud charges related to an old job he had at another pharmaceutical company; federal authorities charged him with running a "Ponzi-like scheme." On Friday, he resigned as CEO from Turing Pharmaceuticals, the company where he raised the prices of Daraprim, and was released on $5 million bond. He is not allowed to leave New York, which made it kind of inevitable that he would return to some of the behavior that made him infamous, like livestreaming his life for hours on YouTube. 
"It's good to be back," he told those watching. Shkreli didn't discuss the arrest at all, however, preferring to check OKCupid and tell viewers that he'd love to date Lindsay Lohan and that he was "sure [his] lawyers don't think this is a good idea." He also played guitar and League of Legends.
A day later, his Twitter account, which now features the name "Martin the God," got hacked. The new, unsanctioned tweets include bon mots like, "fuck da fbi u know they cant touch a god like meh," "Giving away WUTANG album RT for a chance to win," and "Anyone want free money? Willing to donate hundreds of thousands to charities before I go to prison…" A spokesperson for Turing Pharmaceuticals confirmed that the account was hacked to Reuters and said "We have been working with Twitter to get it fixed."
This morning, The Wall Street Journal published the first story with comments from Shkreli about his arrest; the defendant thinks that federal authorities were just trying to get him because of the price-gouging and other recent events in the Shkreli saga, a strategy which he described as "trying to find anything we could to stop him." According to the New York Daily News, the Securities and Exchange Commission first started investigating Shkreli back in 2012. 
He also revealed that his entire persona was "a bit of an act." "Most people don't know the real Martin Shkreli," he added. "I think it would make sense to show them." The Wall Street Journal noted that Shkreli  "compared the more extreme of his myriad public actions … to temporarily adopting an accent."
Shkreli regained access to his Twitteraccount; it's not clear if he plans to continue his "social experiment" and keep tweeting things like this:
Later on Monday, news got out that Shkreli was fired from KaloBios, the other pharmaceutical company he was running, last week. Shares for the company tanked after its CEO was arrested. Shkreli also resigned from the company's board of directors. It's not clear what will happen next for KaloBios, since the company was planning to close before Shkreli gave it a financial boost. Bloomberg reports that two university medical centers stopped running clinical trials of a KaloBios drug after Shkreli's arrest.