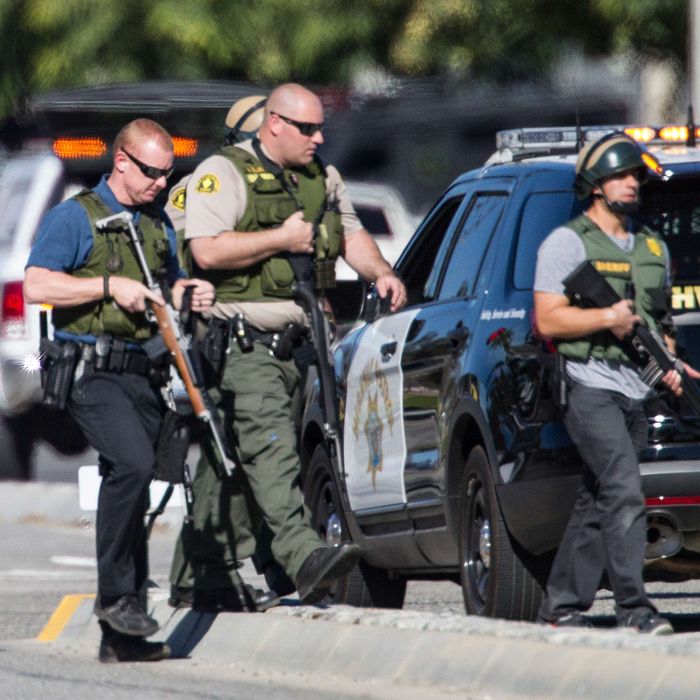 San Bernardino police offices in SWAT gear secure the scene where a mass shooting occurred at the Inland Regional Center on December 2.
Photo: Gina Ferazzi/Los Angeles Times via Getty Images
The Latest
Federal intelligence officials now say San Bernardino shooting suspect Syed Farook was in touch with extremists who were being watched by the

FBI

on social

 

media.
On Thursday, authorities said they found 12 pipe bombs and thousands of rounds of ammunition at a house affiliated with the suspects. The police chief added that he thought the attack had been planned in

 

advance. 
The Shooting
Around 11 a.m. PST, two shooters dressed in black masks and tactical gear opened fire inside the Inland Regional Center in San Bernardino, a community in east Los Angeles. According to the center's Facebook page, its 670 staff members serve "more than 30,200 people with developmental disabilities and their families in San Bernardino and Riverside counties." The center held its annual holiday party only a day ago.
The San Bernardino County Department of Public Health was holding its own holiday party at the complex when the suspects opened fire, shooting 65 to 75 rounds. Salihin Kondoker, whose wife Anies was shot but survived, told NBC News, "They just started shooting … they didn't yell or say anything beforehand."
"Everyone dropped to the floor," Denise Peraza, 27, told her relatives, according to the L.A. Times. "The guys opened fired for 30 seconds, randomly, then paused to reload and began firing again." Peraza was hit in the lower back while hiding under a desk. She said after the shooting everyone was silent for about five minutes, then police officers swarmed into the room.
"These people came prepared to do what they did as if they were on a mission," San Bernardino police chief Jarrod Burguan said. "They were armed with long guns, not with handguns."
At least 14 people were killed and 21 were injured; the AP reports that ten were in critical condition when transported to nearby hospitals.
The building was quickly surrounded by SWAT teams, as well as FBI and ATF agents. Most of the victims were found in one part of the building.
One woman who later escaped texted her father, "Dad, somebody is shooting inside our building. I'm hiding in a closet." Another woman spoke to CBS News as she rushed to the scene; her daughter had been shot in her side, and was pretending to be dead. 
Chief Burguan said on Thursday that three combined pipe bombs were found at the conference center. It had a "remote control" carlike trigger and apparently didn't work. There were also four high-capacity rifle magazines at the scene.
Although there were initial reports that the shooting may have taken place at a nearby Planned Parenthood — the site of a shooting in Colorado last Friday — employees at the San Bernardino clinic quickly let everyone know they were safe.
The Manhunt
The suspects fled the scene in a black SUV, and large sections of the city were at a standstill throughout the day. Roads were closed, schools and government buildings were put on lockdown, and the Waterman Discount center, a local mall, was evacuated. Survivors were taken to a church in yellow school buses, where they were reunited with loved ones and interviewed by police.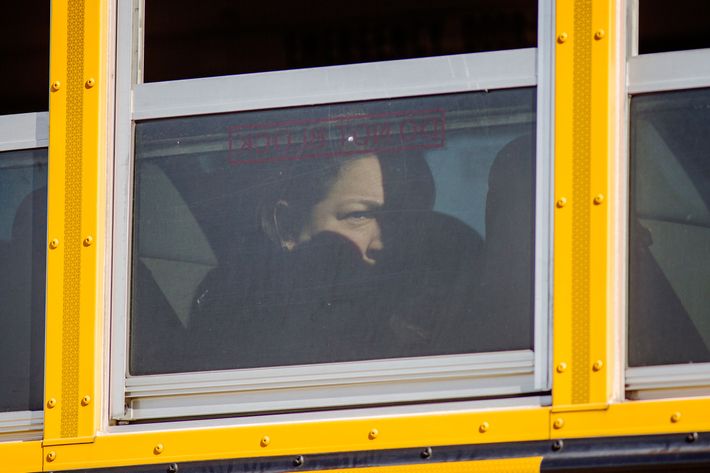 Tips led police to a home in neighboring Redlands, and on Wednesday afternoon heavily armed officers descended on the neighborhood. Residents were told to shelter in place as officers looked through yards and houses searching for suspects.
The Shootout
Police pursued a rented black SUV with Utah plates seen leaving the Redlands house, and back in San Bernardino a gun battle ensued, with hundreds of shots fired. When it was over, one suspect's body lay in the street. Another was recovered inside the vehicle. One police officer sustained non-life-threatening injuries.
Meredith Davis, an ATF spokesperson, told KCAL9-TV that the suspects threw a fake pipe bomb at police during the shootout. The thick-gauge copper pipe contained material that looked like a wick, but no explosives were found in the vehicle.
The Suspects
At a late-night press conference police identified the shooters as Syed Farook, 28, and Tashfeen Malik, 27. They were found dead in the SUV armed with assault rifles and handguns, and dressed in "assault-style" clothing.
Relatives say that Farook and Malik were married two years ago, and they dropped off their 6-month-old daughter with Farook's mother prior to the shooting, saying they had a doctor's appointment.
Farook was an environmental-health specialist with the county health department, where he had worked for five years. Chief Burguan said he left the holiday party at the Inland Regional Center on Wednesday morning "under circumstances described as angry or something of that nature," then returned with Malik. Co-workers told the L.A. Times he was quiet during the event, and vanished just as a group photo was being taken.
They said Farook recently traveled to Saudi Arabia and returned with Malik, whom he had met online. He was described as reserved and well-liked, and one former co-worker said she heard the office threw him a baby shower before he took paternity leave.
The New York Times reports that Farook was born in Illinois and his parents are from Pakistan.
The Motive
The New York Times reported on Thursday that the FBI is treating its investigation into the attack as a counterterrorism operation. A federal intelligence official told the AP that Farook had been in touch with extremists — ones the FBI was keeping tabs on — on social media.
During a press conference on Thursday, San Bernardino police chief Jarrod Burguan told reporters that it definitely appeared as if the attack was preplanned. "Nobody gets upset at a party and puts together that kind of elaborate scheme or planning to do that," he said. 
The AP also reported on Thursday that Farook may have had an argument with one of his co-workers a few weeks ago. That colleague, 52-year-old Nicholas Thalasinos, is now dead. A friend told the AP that Thalasinos said Farook "doesn't agree that Islam is not a peaceful religion." Thalasinos's wife told the New York Times that her husband, a Messianic Jew, "was very outspoken about ISIS and all of these radicalized Muslims. If he would've thought that somebody in his office was like that, he would've said something."
FBI official David Bowdich added on Thursday that "there was obviously a mission here, we know that."
President Obama said basically the same thing on Thursday. "It is possible that this was terrorist related but we don't know," he said. "It's also possible that this was workplace related." 
One federal law-enforcement official told the Los Angeles Times, "We're very involved in terms of trying to see if the motive was something inspired by a terrorist organization or directed by a terrorist organization, or whether [Syed Farook] was self-radicalized." They added that right now it looked like the motive may have been a "combination of terrorism and workplace."
The Investigation
The New York Times reports that around 6 p.m., after officials said the search for the suspects had concluded, law-enforcement officers raided the house in Redlands. 
The Bureau of Alcohol, Tobacco, Firearms and Explosives recovered two rifles and two handguns from the suspects, including a .223-caliber DPMS Model A15 and a Smith & Wesson M&P15. They determined that the four weapons were purchased legally by someone associated with the investigation. Farook bought two handguns, while another person bought the two rifles used in the attack.
On Thursday, Burguan said they found "12 pipe bomb type devices found in that house or in the garage of that house" in Redlands … There were also hundreds of tools, many of which could be used to construct IEDs or pipe bombs." There were also thousands and thousands of rounds of ammunition. "Clearly they were equipped and could've continued to carry out another attack," Burguan said. 
The black Ford Expedition with Utah plates left riddled with bullets after the shootout was rented in the San Bernardino area a few days ago, he added. It was supposed to be returned on Wednesday. 
On Thursday, federal officials said they were interested in interviewing three "associates … in contact with the shooters," per the Los Angeles Times.
The Response
San Bernardino mayor Carey Davis said on Wednesday evening that residents should still be cautious. "Our city is suffering from those who decided to express themselves in a violent fashion," he said. "One of the concerns we have is that people still know the city is on alert."
Presidential candidates were quick to tweet out their responses — which were nearly identical to all of the responses they gave after other recent, high-profile shootings, the last of which happened less than a week ago. The Daily News went after politicians who have refused to tighten gun laws with this provocative cover:
President Obama was already scheduled to do an interview with CBS News on Wednesday afternoon, and gave a quick response to the tragedy. "We have a pattern now of mass shootings in this country which has no parallel anywhere in the world," he said, adding that he believes "there are steps" the government can take to "improve the odds that they don't happen as frequently."
At the Capitol on Thursday, legislation to expand background checks failed in the Senate — as did a bill that would have prohibited people on the terrorist watch list from buying firearms. 
This is a developing story. Check back for updates.