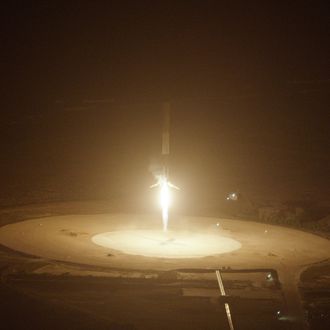 At 8:29 on Monday night, a SpaceX rocket lifted off from Earth. The last time the company tried this, it didn't end well. A rocket planning to deliver supplies to the International Space Station disintegrated before reaching its destination six months ago. 
This trip, however, was far more successful. Not only did the Falcon 9 rocket make it into orbit, it became the first rocket to return to solid ground unscathed after an orbital flight. Minutes after launching, the rocket reappeared at Cape Canaveral, as someone on the SpaceX webcast being filmed back at company headquarters in California said, "The Falcon has landed." 
The cheering on the webcast — accompanied by chants of "USA ! USA! USA!" — sounds something like how you'd imagine 100 people watching the most triumphant scene of every America v. aliens movie simultaneously in a room with dozens of different TVs. 
Elon Musk, SpaceX's CEO — one of the billionaires who wants to make rockets reusable so space flight becomes cheaper (there are a few) — tweeted shortly after the successful round-trip, "Welcome back, baby!"
Plenty of other individuals and entities equally excited about space chimed in — including Amazon CEO Jeff Bezos, whose rocket company landed the New Shepard after a suborbital flight last month. Bezos's "congrats" included a dollop of shade, but, as Wired noted in November, what SpaceX just managed is "way harder."
On the SpaceX webcast, one person said it was like "launching a pencil over the Empire State Building, having it reverse, come back down, and land on a shoebox on the ground during a windstorm." 
Although SpaceX aims to reuse the rocket at some point, Musk told reporters last night, according to the Verge, that he plans on keeping Falcon 9 safe on land. "I think we'll probably keep this one on the ground, just [because] it's kind of unique, it's the first one we've brought back," he said.