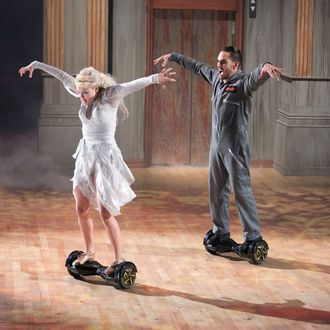 The hoverboards may be coming to New York City (or at least now they could be legal).
Photo: Adam Taylor/ABC
After a holiday of many a hospital or fire-department visit prompted by hoverboards, the New York State Legislature is debating whether it would be a good idea to legalize them. The Assembly and State Senate are both considering legislation that would not list the little headless Segways with a penchant of exploding while charging as motor vehicles — which would mean they would not automatically be banned under current NYS law. 
"You will probably not see me on one anytime soon," Queens assemblyman David Weprin said at a press conference on Tuesday, "but that doesn't mean that I would want to prevent my constituents — especially the younger ones — from enjoying this … recreation." State Senator Jose Peralta added that it was important to legalize hoverboards so the more dangerous ones could be regulated out of existence — and so the NYPD could use its time more wisely. "It makes no sense for the Police Department to issue summonses to New Yorkers for using these hoverboards when they're legal to sell."
NYPD Commissioner Bill Bratton does not exactly agree. "To be quite frank with you, I think anybody who rides these things is out of their minds," he told reporters yesterday. Mayor Bill de Blasio, however, thinks the legislators are on to something. "We want to make sure if they are used in the city on any broader scale, that it's done safely," he said.
California is also trying to regulate hoverboards. A new law that will go into effect next year will require hoverboard users to wear a helmet and obey a speed limit, and they'll have to be over the age of 16. Anyone who breaks the law will be subject to a $250 fine. 
Outside of the legal sphere, plenty of people have very strong opinions on the appropriateness of hoverboards, including the Roman Catholic Church. According to the BBC, a Filipino priest was condemned by his local diocese after he "went overboard" by singing on a hoverboard during a Christmas Eve Mass. A Catholic group posted it on its Facebook page, leading one user to comment, "Complete and total disrespect not only for the Lord but also for the salvation of all those poor souls. To top it off he couldn't even sing."
An official from the Catholic Bishops' Conference of the Philippines-Public Affairs Committee added that "Mass is very important, it is the highest form of worship and these kinds of gimmick should not be done. You can innovate, you can be creative, but your creativity and innovation has its limitations. What is important here is the homily, so if you will celebrate mass, you should keep it as solemn as possible."
Father Albert San Jose later apologized and promised not to do it again. 
Russell Crowe, on the other hand, is very pro-hoverboard — or, as he calls them, "Segway boards" — and does not plan on using the services of any airlines that disagree with him. He may be grounded for a while; most airlines have banned hoverboards given their tendency to explode. 
It is not clear if Mike Tyson is pro- or anti-hoverboard after his well-documented spill off one during the holidays. 
On Tuesday evening, a hoverboard ignited in Brooklyn. According to NBC 4, this is "at least the fourth time in the tri-state area in the last several months one of the popular gifts has burst into flames."
This post has been updated.