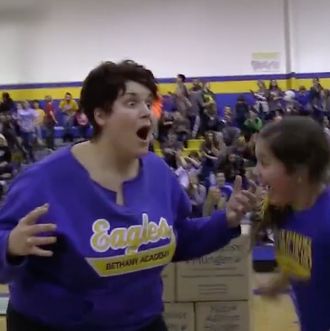 Two weeks ago, Angela Ramey made a very impressive basketball shot.
Ramey's daughter, Grace, had raised the most money for a fund-raiser at Bethany Academy in Minnesota, and as a reward, she was offered a chance at half off tuition for the next year (which is a savings somewhere in the ballpark of $5,000).
To earn it, she would have to make a half-court shot. Both Angela and Grace made attempts, and on the third and final try, Angela got lucky. In fact, she didn't even see the shot go in. It was a very lucky bounce.
"I looked at the ball. I looked at the ground. I dribbled once. I closed my eyes and I said a quick prayer," Ramey told a local news station.
And then all of the kids started screaming, and everyone started celebrating. It is a very nice thing to see! There's a lot of bad stuff happening right now, but this video is good. Please enjoy it.