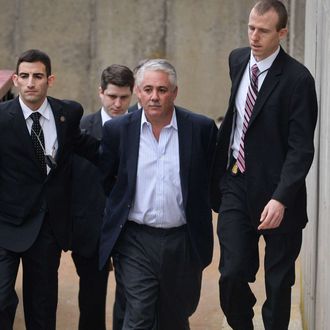 James Burke.
Photo: Steve Pfost/Newsday via AP
James Burke, the former police chief in Suffolk County, on Long Island, faced a judge Wednesday after being arrested in the morning for apparently attacking a suspect in 2012 who was accused of stealing his stuff — and then trying to cover it up.
Burke, who resigned in October as the investigation into this incident was heating up, pleaded not guilty to the federal charges, which formally include violating the civil rights of the victim and conspiring to commit obstruction of justice, Newsday reports. 
The man who Burke allegedly beat up, Christopher Loeb, is now serving three years in prison for stealing from Burke's car and at least a dozen more car break-ins. Loeb was charged with these crimes after Suffolk police raided his home in 2012 and found, among other items, property belonging to the police chief, such as a gun belt, magazines of ammunition, a box of cigars, and other belongings. Loeb alleges those other belongings, according to the Post, included pornography and sex toys.
Burke apparently got a call from fellow cops that his stuff had been discovered in the raid, and went to the suspect's residence, where, according to court papers, he tried to get his stuff back. Loeb was arrested; he alleges two cops assaulted him in the interrogation room — one, says Newsday, told him he'd "rape his mother." Burke then showed up in the interrogation room and ordered the other officers to leave. Loeb called Burke a "pervert" for his sex and porno stash, at which point Burke snapped, apparently punching him until the officers came back and asked him to stop. 
The current case against Burke also focuses on his apparent efforts to conceal the beating of Loeb; federal authorities are still investigating other officers who may have been complicit in shielding Burke — but no one has been charged yet. According to the Times, Burke pressured fellow cops to agree on a fake story about the attack on Loeb, and at least one Suffolk cop perjured himself during one of Loeb's pretrial hearings in 2013 as a result.
At least some of the Suffolk police officers involved in Loeb's arrest are now working with authorities, reports CBS.
Burke is being held in jail without bail until a hearing this Friday. His attorneys don't deny that he was at the site of the raid on Loeb's house, or the police precinct when Loeb was arrested. They do, however, contest that the officer pummeled Loeb. Burke, who has worked for the Suffolk County Police Department since 1986, rising through the ranks until becoming chief in 2012, could face up to five and half years in prison if convicted.