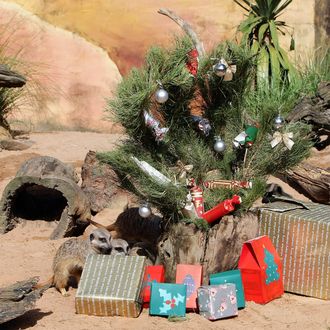 A approximation of what the weather will be like next week.
Photo: Torsten Blackwood/AFP/Getty Images
New Yorkers haven't had to deal with cold weather for a while, thanks to the fall-weather extension awarded by El Niño and the polar vortex. This Friday, however, temperatures dipped into the 40s, which may have had people wandering outside in hats and gloves wondering if winter was planning a end-of-year sneak attack.
Don't count on it. The current forecast shows the tristate area's weird, balmy winter interlude returning in full force, reaching the high 60s on Christmas Eve. According to USA Today, 38 percent of the contiguous United States had snow as of yesterday. Most of it is not on the East Coast.
Heat Miser: 1; Snow Miser: 0
However, snow is starting to fall in some parts of New York. In Buffalo, which still had snow leftovers from last winter clinging to life in August, hasn't seen any snow this year. Until today, that is. 
Feed off their happiness, those of you who are desperately sad that you probably won't throw a single snowball this year, haven't been able to sell any winter coats, or were forced to watch shirtless elfs during SantaCon.