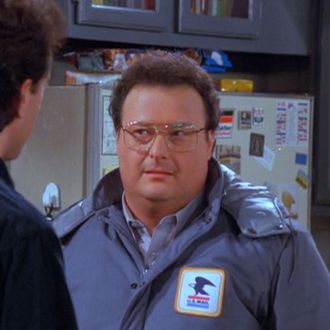 "Nobody from the post office has ever cracked the 50 percent barrier."
Photo: NBC
It's hard to remember now that all you're getting in the mail these days is your ConEd bill and coupons, but there was a time when the packages, holiday cards, and pictures of your friends' babies overflowed from your mailbox. It felt like something to cherish — a small, if occasionally irritating (looking at you, family newsletters), gift. But do you know who doesn't see the yearly spike in postal correspondence this way? Your neighborhood mailman, that's who.
One Queens mailman was just so "overwhelmed" by the number of packages and mail he had to deliver this December that he gave up. United States postal employee Daniel Darby went to Stop & Shop, bought some trash bags, and took all those cards from the cousin you only hear from once a year and dumped them in someone's else's garbage can. Unfortunately for him, someone happened to notice the garbage bags full of at least 1,000 pieces of mail, and Darby was caught.
A similar incident happened in Michigan earlier this month, when a postal worker in Ann Arbor admitted to throwing out more than 1,200 letters in Dumpsters behind a LaQuinta and Comfort Inn. The mail carrier, who started in September, claimed he wasn't properly trained — but most of the mail was recovered and forwarded to its owners, if slightly delayed and possibly covered in trash. 
But another New York mailman, this one in Brooklyn, actually did look at this holiday-mail influx as a gift — but for himself. James Hayden is accused of picking out those gift cards that your aunt always sends you and using them for himself. He confessed to stealing about 50 gift cards and making purchases close to $1,000, including a few packages that he conveniently had other people deliver to the post office where he was stationed.
Last year, three postal workers were charged with conspiracy to commit mail fraud by posing as kids and writing letters to Operation Santa, a program that delivers gifts to those in need. They ended up cleaning up with iPads, laptops, and other loot until their criminal operation got busted.