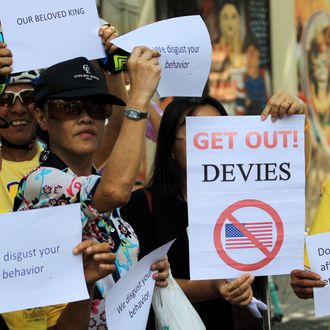 Photo: Vichan Poti/Pacific Press/Corbis
Thai police are now investigating U.S. ambassador Glyn T. Davies for supposedly criticizing the king after he criticized a law that has been sending a record number of people in the country to jail for criticizing the king. 
As you might have noticed, the military government, which seized power from the elected government back in May 2014, is getting increasingly antsy about anyone talking about it or the monarchy, which is doing wonders for morale in the country — an issue that no one can read about in Thailand because printers refuse to print stories about it. 
After several people were sentenced to decades in prison after insulting the very old King Bhumibol Adulyadej on Facebook, Davies said, "We believe no one should be jailed for peacefully expressing their views and we strongly support the ability of individuals and independent organisations to research and to report on important issues without fear of retaliation." 
Very aware of his surroundings, the envoy — who was only confirmed a few months ago — added that the U.S. was a big fan of the king and thinks "he has done so many, many wonderful things not just for Thailand but for the United States and for the region." His remarks led nationalists to protest outside the embassy anyway, and someone in the public sent an official complaint to the police — which means that they have to investigate him, even though he didn't even insult the monarchy, only the law about insulting the monarchy. Some observers think that the person complaining about Davies misquoted him. 
A police spokesperson told Reuters that an official inquiry was unlikely: "His Excellency the ambassador has diplomatic immunity so it is unlikely anything will proceed against him." 
Those found guilty under the lèse-majesté law can face up to 15 years on each count.