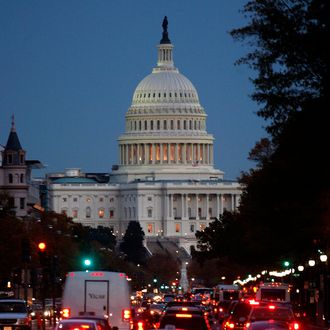 That was anti-climactic.
Photo: Mark Wilson/2006 Getty Images
For months there's been talk of another government shutdown over various issues from Planned Parenthood to Syrian refugees, but on Tuesday night — while most people who care about such matters were focused on the debate — news broke that congressional leaders have reached an agreement on a $1.15 trillion spending package that will keep the lights on for another year.
House Speaker Paul Ryan shared the news with GOP lawmakers late on Tuesday, and the final legislation wasn't released until early on Wednesday morning. According to The Wall Street Journal, the legislation lifts the ban on U.S. oil exports, a win for Republicans, and includes environmental measures Democrats back. Several expiring tax breaks will be made permanent, and Obamacare's medical-device tax and "Cadillac tax" on high-cost employer health plans will be delayed for two years. The bill won't cut off funding for Planned Parenthood or prevent the resettlement of Syrian refugees. The package is said to include legislation that makes medical benefits for 9/11 first responders permanent, so it looks like Jon Stewart's public shaming worked.
Congress already gave itself more time to finish the negotiations, and the government is set to run out of funding at 12:01 a.m. Thursday. However, lawmakers are expected to pass another extension to give themselves a few more days to pass the measure, while still making it home in time for the holidays. 
Several lawmakers seemed mystified by the idea that each side gave a little and got a little, otherwise known as a compromise. "A lot of us feel like we didn't get things we wanted, but we got some stuff that we did want, and I think that's going to be true on both sides," Republican representative John Kline said. "This is divided government, and if you're going to move forward and follow Speaker Ryan's notion that we want to move onto offense next year … then I think many of my colleagues will look at it like I do — that we need to move past this, get this done, let's put 2015 behind us and get on to 2016."