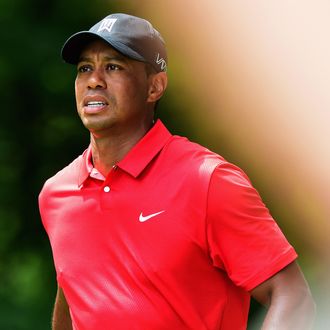 :(
Photo: Jared C. Tilton/Getty Images
Tiger Woods held a press conference on Tuesday to discuss his health after several back surgeries, and he gave the world the closest approximation of what it would be like to interview Sadness from Pixar's Inside Out. 
When asked when he'd be able to play golf again — he hasn't competed since August — 39-year-old Woods said, "There is no timetable so that's the hardest part for me. There's really nothing I can look forward to, nothing I can build towards."
He later added, "Where is the light at the end of the tunnel, I don't know."
He hopes that something good happens someday. Maybe. "Hopefully, the day-by-day adds up to something positive here soon."
Woods is hosting the Hero World Challenge in the Bahamas this week. CBS News notes that the "only time he held a golf club" on Tuesday "was to pose for a picture."
But, really, you don't need to worry about him. He's kept himself busy these last few months. "I am really good at playing video games," he said, "really good. I swear, that's basically how I pass a lot of my time." He did not mention if these video games might have let him pretend that he was the old, pre-back-problems Tiger Woods. 
He also misses playing soccer with his kids. "I can toss the ball but I cannot bend over," he said. "I can't do anything athletic."
Wood's bleak answers weren't reserved for self-reflection, meditations on his future, or realizations that he might not be a great golf player forever. When asked about Kobe Bryant — the basketball star announced he was retiring in a poem this week — Woods replied, "The body can only take so many jumps."