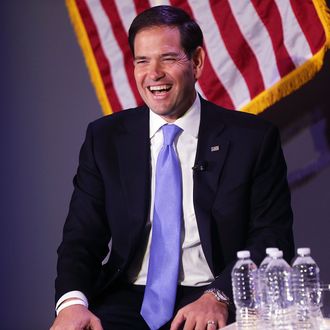 Wait, I'm winning??
Photo: Spencer Platt/2015 Getty Images
One of the reasons so many political scientists and other learned observers are forever warning about excessive reliance on polls — especially early polls — is that the numbers are so often used and abused by people with zero interest in empirical evidence and total investment in this or that outcome. We're seeing some good examples of data spinning in the wake of this weekend's dramatic surveys showing Ted Cruz surging in Iowa and elsewhere.
Exhibit No. 1 is from political analyst Nomiki Konst at The Hill, who wants us to understand that Cruz isn't just moving ahead of Donald Trump in Iowa; he's croaking the Donald once and for all. 
[A]t this point in the campaign, we should prioritize "likely GOP voter" polls in early primary states over national and "total registered GOP voters" polls — like the Monmouth University poll out last week taken of Iowa GOP voters who have voted in previous caucuses, which shows Cruz winning at 24 percent (Trump is at 19 percent). Or, Sunday's Des Moines Register poll of likely Republican caucus-goers, which has Cruz at 31 percent and Trump 10 percentage points behind.

Recent general GOP polls…where Trump is winning, factor in new Republican voters — a key portion of his support, but also those less likely to engage in the arduous Iowa caucus voting. And if those voters don't turn out, suddenly Trump drops below Cruz (in Iowa and South Carolina) and New Jersey Gov. Chris Christie (in New Hampshire) in early primary states, making him dead on arrival to that "brokered convention" the media are fantasizing about.
Sounds plausible, and it's true Trump is relying on new voters, just as Barack Obama did in 2008. But there are some problems with Konst's take. For one thing, Trump isn't losing altitude in Iowa; Cruz is simply rising. For another, the Republican caucus process in Iowa is really not all that "arduous," certainly when compared to the Democratic process; you show up, listen to some speeches, and vote for your favorite candidate, and, if you are lucky, maybe eat some potluck. And for still another, the two polls she cites don't actually use the same "likely caucusgoer" methodology. Ann Selzer, the highly regarded Des Moines Register/Bloomberg pollster, usefully explains at Politico that unlike Monmouth she does not use past voting behavior at all in determining likelihood to caucus. So all sorts of cautions are in order in interpreting a Cruz victory as a definitive defeat for Trump.
But Konst's take is analytical gold as compared to that of Washington Post blogger Jennifer Rubin, who seems to think Cruz's polling surge is the best news for her not-so-secret favorite, Marco Rubio. Watch this two-step:
As for Donald Trump, his tumble out of first place in Iowa suggests an eventual end to the Trump phenomenon.
Maybe, maybe not; again, his numbers in Iowa are not actually "tumbling" at all — Cruz's are simply spiking. 
With the political demise of Carson and the failure of Huckabee or Santorum to rekindle past support, there is little reason for other candidates to spend too much time or effort contesting Cruz for first. The battle will be on for second and third among those who can scoop up voters who in the past voted for Mitt Romney.

Less remarked on since the newest round of Iowa polls but equally clear is the improving position of Sen. Marco Rubio (R-Fla.), who with minimal effort is taking over third in Iowa polling.
So it doesn't matter who wins in Iowa, and Trump's already comatose, so the non-Cruz, non-Trump candidate will be the real winner!  And Rubio's position is improving!
Actually, the Florida senator picked up one point since October in the Register/Bloomberg poll; his "improving position" was almost entirely attributable to Ben Carson's big loss of support. He's still at 10 percent, less than half of Trump's level of support, and less than a third of Cruz's. But never mind:
After all the months of hyperventilating, agonizing over meaningless early national polls and pontificating by the cable TV news talking heads, we may well be heading for a very familiar contest for the GOP nomination. The right-wing favorite (in all likelihood Cruz) matches up against the candidate who captures moderate and somewhat-conservative voters (Christie or Rubio). The number of voters who aren't very conservative (60 to 65 percent) and the presence of large, more moderate, delegate-rich states (Ohio, New Jersey, New York, Michigan, California, Florida, Massachusetts) will favor the moderate/somewhat conservative champion.
So the polls don't matter unless they show the preordained pattern emerging. 
It's interesting that the polling outfit that began this whole "ding-dong, the witch is dead" excitement about Trump's demise, Monmouth University, has a new national survey out today showing the Donald at 41 percent — nearly triple the support level of second-place candidate Cruz. Guess that's an outlier.