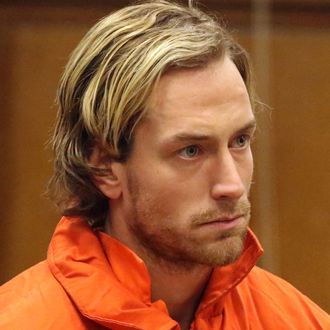 Photo: Jefferson Siegel/NY Daily News via Getty Images
A judge decided Monday that Thomas Gilbert Jr. — the Princeton graduate who is accused of killing his hedge-fund dad in January — is mentally competent to stand trial for murder, reports the Daily News.
The judge apparently rejected the arguments of Gilbert's attorneys, who said his client "can't look at anything in a clear, realistic way." The judge also did not accept the recommendations of two court-appointed psychiatrists, who had found Gilbert mentally unfit to stand trial in September. Medical records, submitted during the preliminary hearings, apparently revealed that Gilbert had paranoid delusions in the past, including one in which he believed that Saturday Night Live cast members were mocking him through the television.
Gilbert is charged with murder after allegedly entering his parents' home and fatally shooting his millionaire father. Gilbert Sr. had reportedly cut back the monthly stipend he was giving his son — something they allegedly argued about before the crime. 
Before the judge's decision, Gilbert had also made his own plea to the Manhattan D.A. about his case, writing that he wanted to be released from jail and "ideally" have his case dismissed, reports the Post, in a letter that's part academic résumé, part Rikers reading list. 
According to the Post, Gilbert reminded the prosecutor that he went to the Buckley School — the elite Manhattan private school, which Vance also attended — and that he graduated from the prestigious prep school Deerfield Academy and Princeton University. 
Gilbert tried a little brownnosing, too. "I've had access to the newspapers and have enjoyed reading articles about the DA's offices and the city's various cases," he wrote. "I was impressed by the overall decline in crime this summer, and the success of the all-out program" — possibly referring to the NYPD summer initiative to flood high-crime areas.
Gilbert also complained in the letter that he was being "railroaded" throughout the high-profile case and that being in jail was "damaging his personal life and career." He also said it was physically dangerous; Gilbert had been placed in a separate mental-observation unit of Rikers, but was rehoused with the general population after that unit was disbanded. 
"My optimal goal is to dismiss and seal [the] indictment," Gilbert stated in the letter.
Gilbert's attorneys had said the letter was more proof that the Princeton grad had no grasp on reality; the prosecution said it showed Gilbert was able to string together a rational argument. The A.D.A. made the case that Gilbert had been able to function in society until he committed the alleged crime — the side the judge apparently also took.